Posts Tagged 'Red Ferrari'
In the South of France, there is a popular annual festival of Ferraris where dozens of Ferrari owners show up to show off their powerful and pricey whips. La Grande Motte Festival of Ferraris benefits the Lions Club International which supports various charity efforts. However, women like me can't let the charitable underpinnings of this event deter us from calling this festival the "Red Ferrari Mid Life Crisis" Fest.
Most Ferrari owners look like they bought their red sports cars during desperate mid-life crisis moments. As one of my girlfriends eloquently stated: "Forty year old guys with money buy red sportscars, because they think it will help them get laid." When, ironically, the opposite is true. Buying a red Italian sportster will help mid-life crisis sufferers label themselves as (surprise!) mid-life crisis sports car buyers. Ripe for small penis humiliation and exploitation, European women view these men as under-hung fools, despite the size of their wallets. And only Euro golddiggers with an eagle eye for a man with money, will overlook Red Ferrari owner penis size in favor of wallet size.
In China, the Red Ferrari is not the cliche on wheels for the small penis driver, instead, it is the sports car to own and drive as a flashy show of wealth. Yes, it's true, the Ferrari is the vehicle of choice for the rich in China and the most popular Ferrari paint color in China is Red. Rich Chinese women drive Red Ferraris as status symbols, noted Hannah Rosin, author of "The End of Men and The Rise of Women". Rich Chinese businessmen and aristocrats buy their adult kids Red Ferraris as symbols of their nouveau riche status, even though the Chinese culture, for the most part, does not condone blatant displays of wealth.
Red Ferrari Chinese Limited Edition
Ferrari manufactured a limited edition run of the Ferrari 458 Italia in Red for the Chinese market only (shown below) and all of the sports cars sold out despite the $954,000 price. However, Ferrari took some heat for their culturally insensitive advertising of the Italia on a section of a Ming Dynasty fortress wall in the city of Nanjing. This advert included a stunt where the depicted Ferrari burned rubber and may have left permanent tire marks defacing the monument. And while Ferrari apologized for their disrespect of the historic wall, it was also revealed that Ferrari had paid the city for the privilege of showcasing the limited edition vehicle. Perhaps, Ferrari reps didn't mention to officials that they were going to do more than just drive the vehicle up onto the wall's ramparts for the ad. Since the incident, the word Ferrari was even blocked as a temporary search term in China. Censorship in action!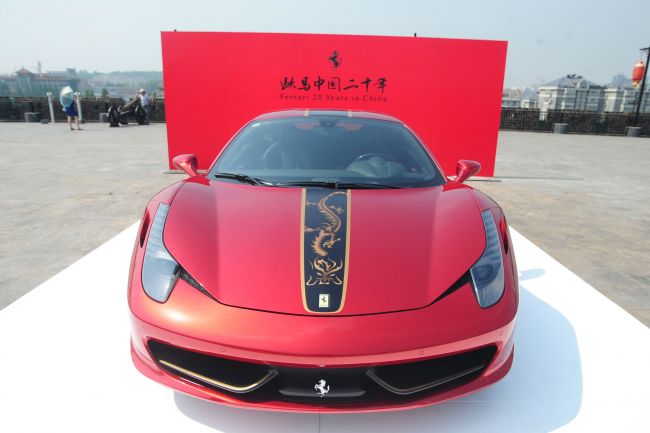 Red Ferraris for Red Royalty
One of the reasons why wealthy Chinese like Red Ferraris is that the young, rich and privileged Chinese are known as Red Royalty. Think of the US and UK equivalent of Blue Blood. Red Royalty are also called princelings, a moniker indicating their family money and upper class status. Thus, the Red Ferrari is the symbol for Red Royalty. Right click Open in a New Tab on the Infographic below for more details on the Red Royalty "celebrities" in China (yes, there is a Red Ferrari included!) One wealthy Chinese princeling even claimed he had never driven a Ferrari in defense against the media perception of his elitist playboy reputation.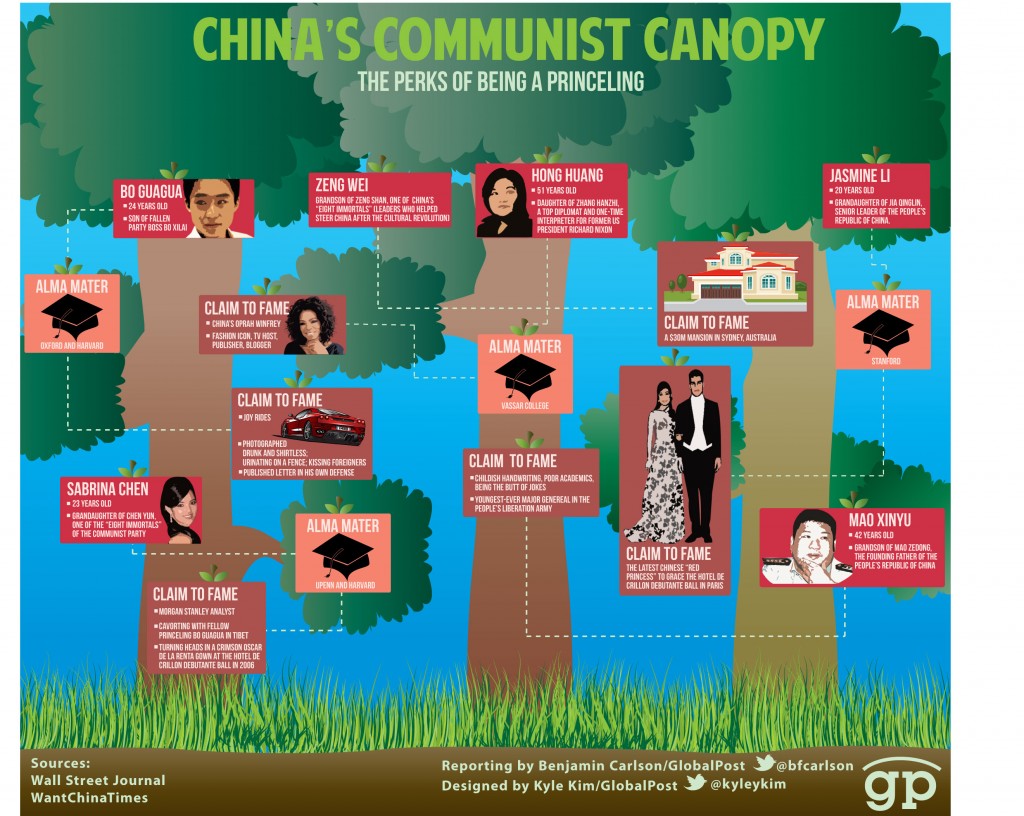 Did these women really fall for the braggadocio of the wannabe wealthy losers conducting a social experiment using a Red Ferrari as bait? Apparently, they did. Sad, sad, sad. These women revealed themselves to be opportunists or golddiggers who would take the owners for a ride, a financial domination ride that is. Since it was a clever prank, recorded for Youtube posterity, you can judge for yourself. These women obviously recognized the red Italian whip as a spendy set of wheels. Their impression was that the owner would have to be rich. However, they didn't consider that the owner could be leasing it and faking rich or even worse, a prankster. Maybe the Red Ferrari owner's penis size didn't matter to them if their nefarious intentions were to get on the golddigger gravy train.
There are obviously women who will sleep with sugar daddies, silverbacks and rich men with small penises for the luxury lifestyle. Using the Red Ferrari as the trap was so classic. If any other color Ferrari was used, such as black or yellow, it would not have had the same allure as the Red Ferrari.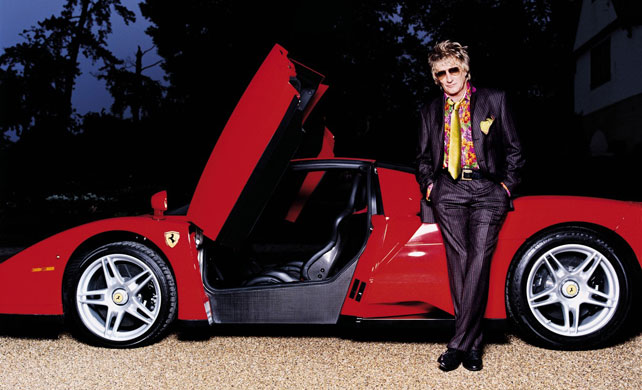 There is no shortage of famous celebs riding around in fiery red sports cars revealing more about themselves than they realize. This blog has been documenting the relationship between driving a red car and having a small penis for years. Famous crooner Rod Stewart is no exception to the small penis humiliation rule. Rod recently confessed that his "little rod" was made even smaller by taking steroids to combat inflammation of his vocal cords during early concert touring days.
Most men who fantasize about becoming famous rock stars want to get filthy rich as well as bed a bevy of beautiful women. While Rod was getting rich, his rod was being shriveled due to steroid use. Instead of hiding in shame, he publicly advertised to the world he had a small penis by motoring around in his Red Ferrari Enzo, years before he revealed his small penis humiliation! Rod's little rod and red hot rod belong together! Everyone knows that cruising in a red car is signaling to the world you have a small penis! Talk about total small penis humiliation. Rod claimed that steroids reduce the swelling in any membrane, not just the vocal cords, but also the "membrane" in a guy's pants. Cue PSA for the biggest reason not to take steroids.
This peen shrinkage news becomes more timely with all the steroid talk in the baseball world making it easy to identify which players are sporting small packages due to 'roid abuse. Players on MLB's steroids list are not only going to be publicly humiliated by being suspended, but also sports fans will know each of those players shrunk their peens in order to play ball and get filthy rich. Poor ARod and Ryan Braun are now clearly among the league's smallest endowed players. Oddly enough, neither drive red sports cars. Yet.

Rod's Red Hot Rod at a British car show
In the classic 1980's John Hughes film "Ferris Buellers Day Off", Ferris Bueller's best friend, Cameron, blasts his father for caring about his beloved 1961 Red Ferrari California more than his own son. Ferris, Cameron and Sloane (Ferris' girlfriend) take a joyride in the Ferrari on the eponymous day off, tooting around Chicago. They return the Ferrari to the showroom garage in the modernist home, whereupon Cameron notes that their drive racked up 200 miles on the odometer. He knows this will make his father crazed. His father is anal retentive about the mileage on the Ferrari and it will be obvious that Cameron took the expensive collector car out for a drive. Higher mileage on the collector Ferrari California would decrease its value. Cameron and Ferris deduce a plan to run the Ferrari in reverse while lifted up with a jack to spin the odometer back. However, as everyone who has watched the film knows, the plan backfires. When Cameron is raving about his father's obsession with his cars and how he should just stand up to his father and take responsibility for once, he accidentally knocks into the jack and the Ferrari rear wheels fall to the garage floor. Then the Ferrari skids right through the showroom garage plate glass window, crunching tree branches before landing in a ravine below. When the bough breaks, the Ferrari will fall…
A special replica of the 1961 Red Ferrari California was used for the Ferris Bueller Car Crash Scene, since it would have been too expensive to wreck a $350K Ferrari on the relatively small movie budget. Most likely no director, regardless of budget, would wreck a Ferrari when a cheaper replicar could be built and utilized for such a scene. Today's value for that rare Red Ferrari California is over $10 million dollars which illustrates the value of older collector Ferraris. While there isn't a relationship of the Red Ferrari to small penis humiliation in this film, the father's obsession with the car and ultimate destruction of the car holds symbolic value. And while it is open to the audience to imagine what the humiliating confrontation will be like when Cameron's father finds out the Ferrari has been destroyed, Cameron seems to feel relieved that he has done something so shocking to a car that his father loves, destroying this symbol of displaced parental affection.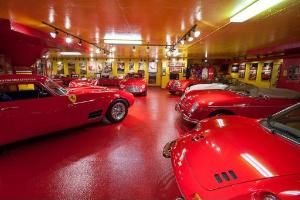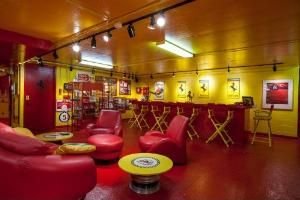 This multimillion dollar Red Ferrari garage is valued greater than the Chicago Lake Shore Drive high rise apartment the garage is being sold with! Shocker! The seller is asking $3.4 million for the apartment and garage or a mere $2.1 million if a big spender only wants to snag the spacious subterranean garage. The garage is a 2,700 square foot man cave featuring red floors, red Italian leather sofas and seating plus a full bar decorated in auto racing motif. This is one of the largest collections of car porn aside from famous car enthusiast, Jay Leno. And, no, the real estate price doesn't include the twenty sport cars including Red Ferraris, Porsches or the Austin Healy. It will be interesting to see if this property sells in entirety or if only the one bedroom apartment sells. The likelihood of finding a buyer for the underground garage as a solo real estate purchase in Chicago's urban lakeside does not seem promising.
The luxurious 67th floor penthouse apartment boasts stellar views of Lake Michigan and the Chicago skyline which along with the car collector garage make this a truly unique piece of Chicago real estate for the "right" buyer. Typically, showroom style garages are custom designed for auto aficionados on large estate properties and are not practical for urban dwellings without the space for a private garage. The owner of this unusual luxe property is a car collector and also a former race car driver who still dabbles in road rallies. The collection of twenty European sports cars, many valued at over a million dollars each, are showcased as if they are in a renowned auto museum. Even the wealthy real estate owner and car connoisseur stated in an interview for ChicagoBusiness.com that the sports cars he collects are "rolling works of art".
| | |
| --- | --- |
| | |
| | |
Rich Kids of Instagram Blog
The Tumblr blog Rich Kids of Instagram highlights the debauchery and excess of the spawn of the uber wealthy 1% `ers, featuring hashtags including Arm Candy (in this case, expensive designer bracelets and spendy watches) to Bottles and Models (extreme partying with ultra luxe bottles of champagne while accompanied by hot models) and of course, Toys… helicopters, private jets, yachts and sports cars. The most featured sports car color is Red, with Ferraris and Lamborghinis being the most popular makes, followed by Porsches, Bentleys and Aston Martins.
Status Symbol Cars
Since these cars are status symbol toys, the Red sports car color is all about flash and standing out, not about psychological Red Car Small Penis compensation. These pricey toys are often purchased by Dads as gifts to their Rich Kids or paid for by the rich progeny themselves from trust fund proceeds. The rich Dads of the RKOI will often boast flashy sports cars or collector cars in a showroom garage as revealed in Rich Kids of Instagram pics. And yes, within the collection is stereotypically a Red sports car or two. Even the Rich Girls have Red cars or pink(!) cars, a pepto bismol pink Bentley, a custom pink Dune Buggy… Perhaps RKOI will spin off new blogs titled: Rich Kids Red Cars or Rich Girls Pink Cars.
photos c/o RKOI
Nothing tells the world you have a small penis more than driving a Red Ferrari sports car around SoCal. And if you're Ashton Kutcher, not all the millions you have accumulated from your films, tv shows and successful tech deals can make up for having a small penis. Not even having Mila Kunis as your new girlfriend can serve as sweet solace for lacking in size. When women are asked: Does Penis Size Matter – the blazing majority would answer: Size Matters. Obviously, size doesn't matter to Mila Kunis, since her former long-term boyfriend was McCaulay Culkin. Mila Kunis must truly fall in love and love is blind and blind to penis size. Hmmm, maybe Mila Kunis does choose her boyfriends for size, wallet size, that is. Jumping from Culkin to Kutcher represented a 10x net worth boyfriend leap to $140 million. Nice!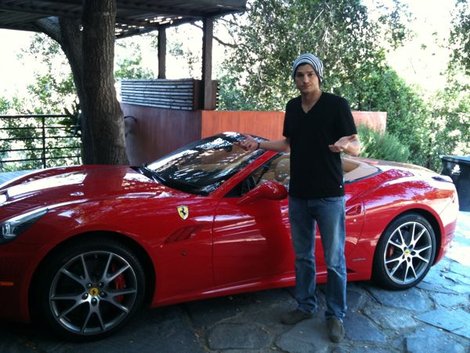 Ashton Kutcher first popped up on the Red Car Small Penis radar when he bought a Red International Pickup Truck, the largest pickup truck in production at the time. It's true! Red Truck Small Penis and Big Truck Small Penis. Double tiny cock whammy for Ashton. And now with his Red Ferrari, Ashton Kutcher continues to buy small penis humiliation on four wheels.
Six years ago Swedish gangster Bo Stefan Eriksson claimed the million dollar Red Ferrari Enzo that crashed and split in half on Pacific Coast Highway in Malibu had been driven by a mysterious German driver he dubbed "Dietrich". In this cinema stunt-worthy crash, the gangsta from Svenska also claimed he was just the passenger. After the Red Ferrari crash, Eriksson suffered the humiliation of being booked on multiple charges including illegal gun possession and two counts of embezzlement related to his sketchy dealings with exotic cars. Eriksson pleaded no contest to the charges and was sentenced to three years in the klink. Eriksson should have truly considered himself lucky as he could have been killed, instead, he walked away from the spectacular 120 mph high speed crash, attesting to the quality of the Ferrari's design safety. The Red Ferrari, shown in the photo, was literally sheared in half as if cut by a cake knife.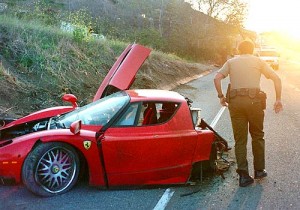 Flash forward now six years later. The police chose not to engage a speeding driver of a Mercedes in Beverly Hills for traffic safety reasons, but the 5-0 located him later. As it turned out, this was the mysterious "Dietrich", only his real name is Trevor Karney. Ironically, Karney claims to have been the passenger in the original Red Ferrari smash-up. Two passengers, one Ferrari. What, no driver? Karney has no fixed address, but states he lives on a boat in Marina del Rey. Shades of Sonny Crockett and Miami Vice, chez California. But Crockett primarily drove a white 1986 Ferrari Testarossa. And now to continue with the cake knife metaphor, a cake that commemorated the crash, complete with a bottle of Absolut. Let them eat a Red Ferrari Enzo cake, but wash it down with some Swedish vodka!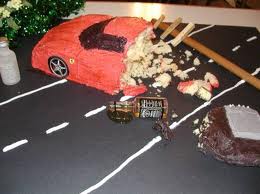 When I write Red Car Big Dick, in this case, I refer to dick in the pejorative, not the anatomical sense. Check out the Red Ferrari 458 driver in New York City who tried to dick his way out of a parking ticket by driving away from the police officer who had warned the driver, Julien Chabbott, to remain on the sidewalk while the ticket was issued. The Ferrari owner, an app developer who co-developed the app known as Line Snob, didn't heed the police officer's directive and even tried to drive away, running over part of the officer's foot. Hmmm did he think he could get away sans ticket after pulling that smooth move? When he's in line to be arraigned by a judge, will he be able to use his Line Snob app and jump the line?
Yes, his Line Snob app's theme is where to go to shop, party or travel without long waits in lines. Wonder if he thought about the line to get fingerprinted and have his mug shot photo taken as well. The icing on the Red Car Small Penis humiliation cake is when he's getting dragged off to some NYC police station, his blonde eye candy piece, Stephanie Pratt, from the tv show "The Hills" (Spencer Pratt's sister, yes that Spencer Pratt of the famewhore duo Heidi and Spencer) takes off in the Red Ferrari valued at over $250K. Small penis humiliation as this was all captured on Youtube and the humiliating Youtube video has over 2,100,000 views and counting. Nothing like millions of people knowing: Red Car Big Dick.
Youtube video credit: Damian Morys
Facebook: www.facebook.com/DamianMorysPhotos
Update: Chabbott now claims that a valet was negligent in not parking his Ferrari and that the police officer erred in writing him a ticket. It would seem a simple explanation to the officer and confirmation by the hotel or valet would support the scenario instead of Chabbott trying to drive away and blow off the ticket.