In China, the Red Ferrari is not the cliche on wheels for the small penis driver, instead, it is the sports car to own and drive as a flashy show of wealth. Yes, it's true, the Ferrari is the vehicle of choice for the rich in China and the most popular Ferrari paint color in China is Red. Rich Chinese women drive Red Ferraris as status symbols, noted Hannah Rosin, author of "The End of Men and The Rise of Women". Rich Chinese businessmen and aristocrats buy their adult kids Red Ferraris as symbols of their nouveau riche status, even though the Chinese culture, for the most part, does not condone blatant displays of wealth.
Red Ferrari Chinese Limited Edition
Ferrari manufactured a limited edition run of the Ferrari 458 Italia in Red for the Chinese market only (shown below) and all of the sports cars sold out despite the $954,000 price. However, Ferrari took some heat for their culturally insensitive advertising of the Italia on a section of a Ming Dynasty fortress wall in the city of Nanjing. This advert included a stunt where the depicted Ferrari burned rubber and may have left permanent tire marks defacing the monument. And while Ferrari apologized for their disrespect of the historic wall, it was also revealed that Ferrari had paid the city for the privilege of showcasing the limited edition vehicle. Perhaps, Ferrari reps didn't mention to officials that they were going to do more than just drive the vehicle up onto the wall's ramparts for the ad. Since the incident, the word Ferrari was even blocked as a temporary search term in China. Censorship in action!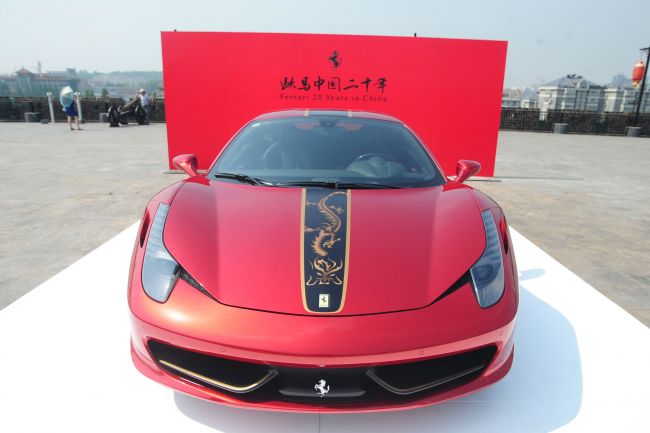 Red Ferraris for Red Royalty
One of the reasons why wealthy Chinese like Red Ferraris is that the young, rich and privileged Chinese are known as Red Royalty. Think of the US and UK equivalent of Blue Blood. Red Royalty are also called princelings, a moniker indicating their family money and upper class status. Thus, the Red Ferrari is the symbol for Red Royalty. Right click Open in a New Tab on the Infographic below for more details on the Red Royalty "celebrities" in China (yes, there is a Red Ferrari included!) One wealthy Chinese princeling even claimed he had never driven a Ferrari in defense against the media perception of his elitist playboy reputation.