Posts Tagged 'California'
Erotic hypnosis has found its way into mainstream advertising. It is well known that advertising utilizes covert elements of hypno and brainwashing. However, this Alfa Romeo Love Story ad features an erotic hypnosis voice track synched to a red Alfa Romeo 4C coupe cruising along a picturesque coast. This ad could have been filmed on Pacific Coast Highway, but it could have been filmed somewhere along the coast of Italy. The sexy hypno track is the perfect audio accompaniment to the sensual lines of the Alfa Romeo coupe. Red sexual signaling abounds.
Obviously, Alfa Romeo advertising is working because the Italian car manufacturer experienced the highest auto sales surge overall in 2017 in the USA according to Bloomberg News.
He shelled out $70K for a sporty red Tesla and will now be shelling out for a spendy vacation… in jail, rehab or a mental health facility. The hippie driver came to a full stop in the middle of daytime traffic on PCH in Pacific Palisades. He began stripping off his clothes outside of his car until he was completely au naturel. But that wasn't all. For over two hours, the man performed wacky, spacey dance moves while standing on the driver's seat, showcasing these moves through the open sun roof of his Tesla. Paramedics and beach patrol crew patiently waited for an opportunity to apprehend him. Mr. Red Tesla Small Penis closed out his hipster performance art walking atop the body of the car. Apres le cinema verite, he was straitjacketed and taken away on a stretcher.
In the meantime, bystanders broke out their cell phone cameras to record the event. The entertaining videos and photos are making the rounds in the media and popular social sites including Youtube. Going totally naked in public revealed the driver's tiny penis. As one video viewer commented, the red Tesla driver's pubic hair was longer than his naughty bits. Small penis humiliation right there. This red car driver will forever be known for having a mind meltdown on PCH whether it was a mental health issue or drug interlude. And, of course, he will be known for revealing visible proof of "red car small penis" and live forever in humiliating internet infamy. His only consolation will be that he is most likely well-heeled if he can afford a Tesla and that he can laugh all the way to the bank while wheeling around in his red EV. Despite his small penis.
Nothing tells the world you have a small penis more than driving a Red Ferrari sports car around SoCal. And if you're Ashton Kutcher, not all the millions you have accumulated from your films, tv shows and successful tech deals can make up for having a small penis. Not even having Mila Kunis as your new girlfriend can serve as sweet solace for lacking in size. When women are asked: Does Penis Size Matter – the blazing majority would answer: Size Matters. Obviously, size doesn't matter to Mila Kunis, since her former long-term boyfriend was McCaulay Culkin. Mila Kunis must truly fall in love and love is blind and blind to penis size. Hmmm, maybe Mila Kunis does choose her boyfriends for size, wallet size, that is. Jumping from Culkin to Kutcher represented a 10x net worth boyfriend leap to $140 million. Nice!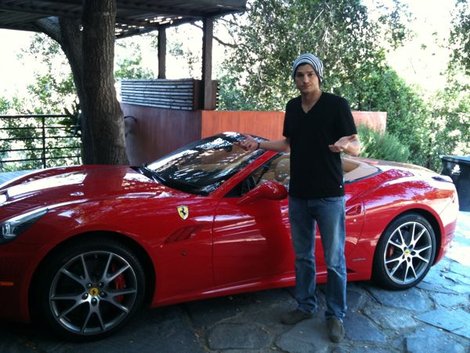 Ashton Kutcher first popped up on the Red Car Small Penis radar when he bought a Red International Pickup Truck, the largest pickup truck in production at the time. It's true! Red Truck Small Penis and Big Truck Small Penis. Double tiny cock whammy for Ashton. And now with his Red Ferrari, Ashton Kutcher continues to buy small penis humiliation on four wheels.
Six years ago Swedish gangster Bo Stefan Eriksson claimed the million dollar Red Ferrari Enzo that crashed and split in half on Pacific Coast Highway in Malibu had been driven by a mysterious German driver he dubbed "Dietrich". In this cinema stunt-worthy crash, the gangsta from Svenska also claimed he was just the passenger. After the Red Ferrari crash, Eriksson suffered the humiliation of being booked on multiple charges including illegal gun possession and two counts of embezzlement related to his sketchy dealings with exotic cars. Eriksson pleaded no contest to the charges and was sentenced to three years in the klink. Eriksson should have truly considered himself lucky as he could have been killed, instead, he walked away from the spectacular 120 mph high speed crash, attesting to the quality of the Ferrari's design safety. The Red Ferrari, shown in the photo, was literally sheared in half as if cut by a cake knife.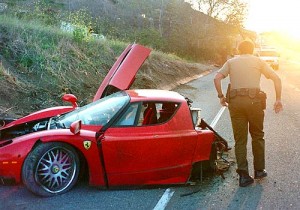 Flash forward now six years later. The police chose not to engage a speeding driver of a Mercedes in Beverly Hills for traffic safety reasons, but the 5-0 located him later. As it turned out, this was the mysterious "Dietrich", only his real name is Trevor Karney. Ironically, Karney claims to have been the passenger in the original Red Ferrari smash-up. Two passengers, one Ferrari. What, no driver? Karney has no fixed address, but states he lives on a boat in Marina del Rey. Shades of Sonny Crockett and Miami Vice, chez California. But Crockett primarily drove a white 1986 Ferrari Testarossa. And now to continue with the cake knife metaphor, a cake that commemorated the crash, complete with a bottle of Absolut. Let them eat a Red Ferrari Enzo cake, but wash it down with some Swedish vodka!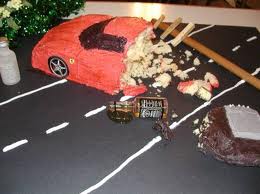 Kobe Bryant is well-endowed both in the pants and in the wallet, although perhaps not so well-endowed in the wallet post-divorce to Vanessa Bryant. Kobe isn't quite in the age bracket of the mid-life crisis Red sports car buyer. But he is in the category of divorce consolation Red sports car buyer dropping nearly $285K on a Red Ferrari 458. Kobe's speedy new Red toy goes from zero to sixty in 3.2 seconds. How much do you want to bet he's tested this to be sure he got his money's worth?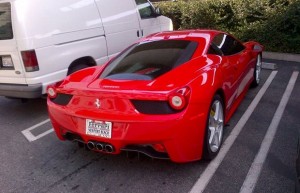 Only a few men who buy expensive Red sports cars are so cocksure of themselves and their penis size, that the Red color choice isn't even a small penis humiliation issue. No woman seeing Kobe Bryant cruising in his Ferrari 458 is going to be thinking Kobe has a small penis or thinking they should give the small penis humiliation pinkie wave. Instead, they are going to be yelling: Kobeeee!!! hoping to get the baller's attention. Although lately, the only woman who seems to have been getting Kobe Bryant's attention has been his ex-wife! Yes, there are reports and photos of Kobe and Vanessa getting kissy kissy and rumors that they might be making up…
Red Car Small Penis Humiliation is not for girls. Girls can drive whatever sportscar in whatever car color they desire without fear of humiliation or being seen as overcompensating. In fact, when girls drive a red car, it's viewed as a sexual signal, as in red hot! There's an old song by Prince, Sweet Little Red Corvette, that is basically about a girl's sexuality being tied into Red car symbolism. Girls can motor around in a Red Corvette, Porsche or Ferrari and the only thing guys will think is, well, let's just say guys will not be thinking, they will be reacting!
So on Black Friday, Paris Hilton gave herself a very expensive gift, a $277,000 Red Ferrari sportscar. Now that Paris has broken up with her wealthy Vegas club magnate fiance, Paris must need to console herself and advertise that she's a hot ride with a hot ride. Nothing advertises a girl on the prowl for sex more than when she's cruising around in an expensive red Italian sportscar. But perhaps there is some humiliation and overcompensation in Paris Hilton buying a Red sports car? Obviously, it wouldn't be small penis humiliation or size overcompensation, but… Recently, Paris didn't handle an interview very well where the interviewer asked her if she felt irrelevant (having been replaced by Kim Kardashian). In fact, Paris was embarrassed and humiliated on live national tv. So perhaps, out of humiliation for being accused of irrelevancy, and to overcompensate, Paris decided to console herself and get spendy on a sports car.
My Red Car Small Penis blog missed the small penis humiliation trifecta on this Red car find! However, with two out of three cars in "small penis" red, I would bet the owner of these three cars is well endowed with cash, but not so well endowed with penis size. At first, I thought these three sports cars were parked in a primo showroom garage. As it turns out, the garage is not an actual garage, but an art gallery which can park up to 30 collectible cars! Without a panoramic view of the art gallery garage, it's hard to imagine the magnitude of a space 10 times the size depicted.

As for the cars, my Red Car Small Penis automotive expert identified a newer Red Ferrari, a classic Red Porsche coupe and an uber classic gull-wing door silver Mercedes roadster. It seems a shame to waste the newer Red Ferrari in a collector car garage, that sports car should be driven! If for no other reason than small penis humiliation! This art gallery collector car garage is located in Santa Barbara, California, in a renowned "architectural" house currently listed on the market for over 20 million dollars. Yes, you read that dollar figure right. Unlike the Malibu, California beach house, where the seller was using a free Red Ferrari as small penis humiliation buyer bait, none of these cars are being used to seduce a buyer with big cash, small penis.
photo c/o MLS.com
Not just one, not just two, but three expensive red collector sportscars? How small is this penis? One car per inch? A vintage red Aston Martin, Porsche and Ferrari collectively smell like small penis humiliation and imported carnauba wax! Parked in their very own no-expense-spared, impeccably designed and racing theme accessorized showroom garage with (likely Italian) marble tile floors…these small penises on Pirelli tires are probably only driven up and down the imported stone driveway. A SoCal friend noted the ocean blue license plates are old pre-1980 California tags probably dating back to the era of the Red small penis cars. Yes, this Red sportsar owner undoubtedly obsesses over such authentic details. These British and European sports cars are ultra primo small penis humiliation toys. And obviously kept hand waxed and buffed to perfection, hmmm do I detect Freudian vicarious small penis masturbation?
Unfortunately, unlike the Malibu ocean view villa I previously blogged about where the savvy owner dangled the free Red Ferrari to anyone who bought the property by a specific date, none of these small penis humiliation cars are part of the deal re: the impressive Northern California estate property replete with garage showroom currently on the market for over seven million dollars. It could be assumed that the owner is hoping to attract another wealthy car collector as the pimped out garage can fit not just three, but six small penis humiliation sports cars.
While this is the first time, Red Car? Small Penis! has hit the Small Penis Trifecta, I doubt it will be the last. Enjoy the Red Car Small Penis humiliation photos!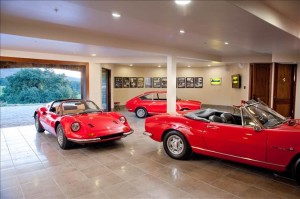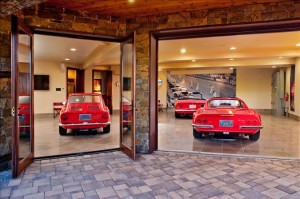 How much does the size choice of a man's car equate to his penis size?
Comedienne Sarah Silverman's father tweets about life from Boca Raton, Florida. You can actually see where her sardonic sense of humor comes from, if you follow him on his RantsFromBoca Twitter. One of his recent tweets:
Boca rumor has it the bigger the car the smaller the penis. So why am I driving a Prius? Maybe it isn't applicable if you are 73.
A Red Prius was a virtual joke-mobile for actors Will Ferrell and Mark Wahlberg playing farcical French Connection-esque cops in last year's comedy film "The Other Guys". The Red Prius took the brunt of "small" jokes intimating small penis humiliation.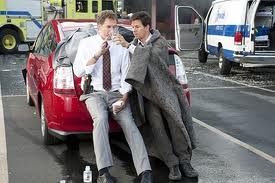 And the Prius, perhaps due to its name, a five letter word that sounds like Penis, continues to be a target for small penis humiliation jokes, regardless of color. In this case, a small car is associated with having a small penis as if it is a mirror to small penis humiliation size. Prius? Small Penis!
I've also blogged about how men aka losers who try to overcompensate for lack of penis size by buying a big-ass SUV, super-sized pick-up truck or large luxury sedan, but not necessarily in the color known as "small penis" red. In this case, it's: Big Car? Small Penis!
Emma Parker Bowles, a British expat and writer living in LA, and yes, niece of cuckoldress Camilla Parker Bowles, penned an interesting article in the The Sun, a UK news journal, about the same small penis humiliation topic. She opined that men with small penises seek out larger cars to compensate for their lack of penis size, but lamented she couldnt' go around de-pantsing the big car drivers to prove her theory. Oh, if only! She also noted that Americans have an obsession about car size regardless of penis size and much more so than car owners in other countries. She felt that despite the new trend in the US toward driving smaller cars and hybrids, that Americans will typically seek out larger vehicles to drive. In America, she stated, "bigger is better" regardless of fuel costs or environmental impact.
Image c/o movie still from "The Other Guys"
I saw the flash of orange on Biscayne. Only caught a millisecond of a glance at the driver, but in that millisecond I vouched: small penis! Since Red and Yellow combine to make Orange, it makes complete sense that Orange is in the small penis humiliation car color range. As for the car, it was a Lambo. Specifically a Lamborghini Murcielago. And a large price tag to pay for a small penis — @$290K!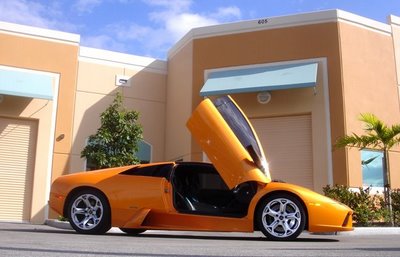 So, is Orange the new Red when it comes to flashy small penis humiliation wheels? Is Orange less common than Red and therefore even flashier and more of a statement to the effect: I May Have a Small Dick, but I Have a Lot of Cash?
But I nearly forgot, there are rental car companies that feature only exotic sportscars around Miami. If you've got the cash or credit limit on your credit card, why rent trash? Dream Cars of Miami will rent this Orange Lambo for $1,750 per day. So it may have been rental Viagra on wheels for a small penis dickster driver and definite small penis pinkie wave humiliation to drive around for the day.
Now on the West Coast, on an equally famous drive, PCH a/k/a Pacific Coast Highway, we have an Orange Maserati (photo submitted by a Red Car? Small Penis! blog reader). I don't know my Maserati models, so perhaps a reader can I.D. this small penis humiliation model. But here is an Orange Maserati revving it up at a Red light for all girls to see and sneer: Small Penis! Or give the small penis sign to the driver! While the driver may have millions, driving this flashy Orange Maserati means only one more thing: Orange is the New Red!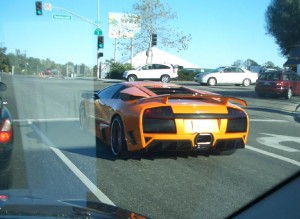 Lambo photo c/o gothamdreamcars.com/miami
Maserati photo c/o private collection