Posts Tagged 'California'
Erotic hypnosis has found its way into mainstream advertising. It is well known that advertising utilizes covert elements of brainwashing. However, this Alfa Romeo Love Story ad features an erotic hypnosis voice track synched to a red Alfa Romeo 4C coupe cruising along a picturesque coast. This ad could have been filmed along Pacific Coast Highway or somewhere along the coast of Italy. The sexy hypno track is the perfect audio accompaniment to the sensual lines of the Alfa Romeo coupe. Red sexual signaling abounds.
Obviously, Alfa Romeo advertising is working because the Italian car manufacturer experienced the highest auto sales surge in 2017 in the US according to Bloomberg News.
He shelled out $70K for a sporty red Tesla and will now be shelling out for a spendy vacation… in jail, rehab or a mental health facility. The hippie driver came to a full stop in the middle of daytime traffic on PCH in Pacific Palisades. He began stripping off his clothes outside of his car until he was completely au naturel. But that wasn't all. For over two hours, the man performed wacky, spacey dance moves while standing on the driver's seat, showcasing these moves through the open sun roof of his Tesla. Paramedics and beach patrol crew patiently waited for an opportunity to apprehend him. Mr. Red Tesla Small Penis closed out his hipster performance art walking atop the body of the car. Apres le cinema verite, he was straitjacketed and taken away on a stretcher.
In the meantime, bystanders broke out their cell phone cameras to record the event. The entertaining videos and photos are making the rounds in the media and popular social sites including Youtube. Going totally naked in public revealed the driver's tiny penis. As one video viewer commented, the red Tesla driver's pubic hair was longer than his naughty bits. Small penis humiliation right there. This red car driver will forever be known for having a mind meltdown on PCH whether it was a mental health issue or drug interlude. And, of course, he will be known for revealing visible proof of "red car small penis" and live forever in humiliating internet infamy. His only consolation will be that he is most likely well-heeled if he can afford a Tesla and that he can laugh all the way to the bank while wheeling around in his red EV. Despite his small penis.
Nothing tells the world you have a small penis more than driving a Red Ferrari sports car around SoCal. And if you're Ashton Kutcher, not all the millions you have accumulated from your films, tv shows and successful tech deals can make up for having a small penis. Not even having Mila Kunis as your new girlfriend can serve as sweet solace for lacking in size. When women are asked: Does Penis Size Matter – the blazing majority would answer: Size Matters. Obviously, size doesn't matter to Mila Kunis, since her former long-term boyfriend was McCaulay Culkin. Mila Kunis must truly fall in love and love is blind and blind to penis size. Hmmm, maybe Mila Kunis does choose her boyfriends for size, wallet size, that is. Jumping from Culkin to Kutcher represented a 10x net worth boyfriend leap to $140 million. Nice!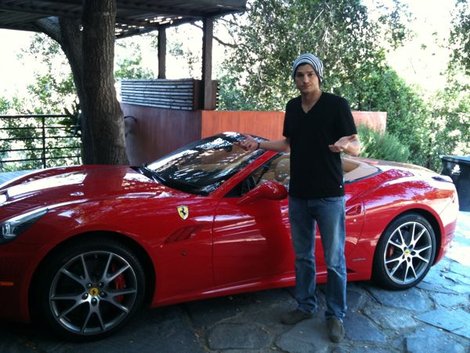 Ashton Kutcher first popped up on the Red Car Small Penis radar when he bought a Red International Pickup Truck, the largest pickup truck in production at the time. It's true! Red Truck Small Penis and Big Truck Small Penis. Double tiny cock whammy for Ashton. And now with his Red Ferrari, Ashton Kutcher continues to buy small penis humiliation on four wheels.
Six years ago Swedish gangster Bo Stefan Eriksson claimed the million dollar Red Ferrari Enzo that crashed and split in half on Pacific Coast Highway in Malibu had been driven by a mysterious German driver he dubbed "Dietrich". In this cinema stunt-worthy crash, the gangsta from Svenska also claimed he was just the passenger. After the Red Ferrari crash, Eriksson suffered the humiliation of being booked on multiple charges including illegal gun possession and two counts of embezzlement related to his sketchy dealings with exotic cars. Eriksson pleaded no contest to the charges and was sentenced to three years in the klink. Eriksson should have truly considered himself lucky as he could have been killed, instead, he walked away from the spectacular 120 mph high speed crash, attesting to the quality of the Ferrari's design safety. The Red Ferrari, shown in the photo, was literally sheared in half as if cut by a cake knife.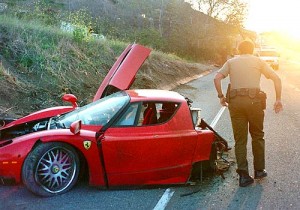 Flash forward now six years later. The police chose not to engage a speeding driver of a Mercedes in Beverly Hills for traffic safety reasons, but the 5-0 located him later. As it turned out, this was the mysterious "Dietrich", only his real name is Trevor Karney. Ironically, Karney claims to have been the passenger in the original Red Ferrari smash-up. Two passengers, one Ferrari. What, no driver? Karney has no fixed address, but states he lives on a boat in Marina del Rey. Shades of Sonny Crockett and Miami Vice, chez California. But Crockett primarily drove a white 1986 Ferrari Testarossa. And now to continue with the cake knife metaphor, a cake that commemorated the crash, complete with a bottle of Absolut. Let them eat a Red Ferrari Enzo cake, but wash it down with some Swedish vodka!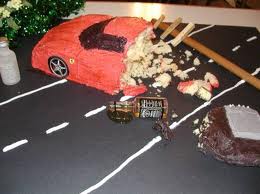 Kobe Bryant is well-endowed both in the pants and in the wallet, although perhaps not so well-endowed in the wallet post-divorce to Vanessa Bryant. Kobe isn't quite in the age bracket of the mid-life crisis Red sports car buyer. But he is in the category of divorce consolation Red sports car buyer dropping nearly $285K on a Red Ferrari 458. Kobe's speedy new Red toy goes from zero to sixty in 3.2 seconds. How much do you want to bet he's tested this to be sure he got his money's worth?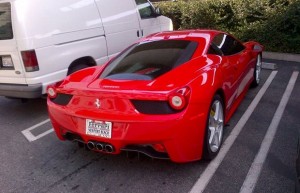 Only a few men who buy expensive Red sports cars are so cocksure of themselves and their penis size, that the Red color choice isn't even a small penis humiliation issue. No woman seeing Kobe Bryant cruising in his Ferrari 458 is going to be thinking Kobe has a small penis or thinking they should give the small penis humiliation pinkie wave. Instead, they are going to be yelling: Kobeeee!!! hoping to get the baller's attention. Although lately, the only woman who seems to have been getting Kobe Bryant's attention has been his ex-wife! Yes, there are reports and photos of Kobe and Vanessa getting kissy kissy and rumors that they might be making up…