Looking for a deal on a used Red luxury sports car? If you don't mind traveling to Dubai or dusting off a bit of sand, you can buy a Red sportscar repo, cheap. Of course, it will cost you a trip to Dubai to buy it, shipping to your destination, taxes, tariffs, modifications to your country's emission standards, but all that aside, bargains await! Even Dubai has not escaped the wrath of the wrecked economy. Primarily British expatriates, working in Dubai in the construction or oil biz, signed on the dotted line for hefty car loans to finance primo wheels to look like they fit in with the nouveau riche of the world's biggest oil and building boomtown.
Now in Dubai, I'm not sure if "red car, small penis" holds true for all drivers, but I would imagine function follows form at least for the UK expats. But unlike in the US, where if your car gets repo'd, you get a smack on your credit report, Dubai arrests debtors and throws them into debtors prison! Some expats are stuck in Dubai, stripped of their passports, trying to work off their debts however they can in order to avoid jailtime. Talk about Financial Domination!
Most of us who live in big cities regularly see abandoned cars on the streets, the cars get stickered and eventually towed, but what we don't usually see are cars like this: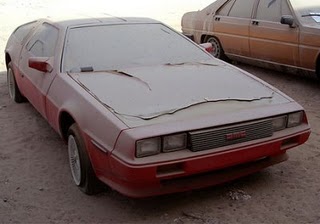 or this: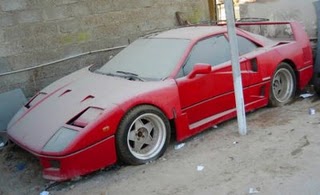 …covered in sand, left abandoned by their owners, who most likely fled the country. The largest concentration of abandoned vehicles is at the Dubai airport. Is it considered the penultimate small penis humiliation to abandon your Red sportscar in an airport parking lot before you flee the country?