One of the stars of Glee, cute Cory Monteith, bought or leased himself a true red-car-small-penis-mobile, a Ferrari California, yes, Ferrari really does have a model called California. Can we assume this Ferrari model's name was a brilliant Ferrari Marketing Department move to sucker all the rich or nouveau riche small dick loser drivers in the eponymous state? With a starting price of $190,000, it is a tres expensive way to say: Hey bitches, I'm a winner, but check out my small penis!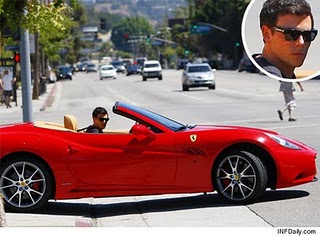 Sporting impressive Car and Driver stats such as accelerating from 0 – 60 in 4 seconds or less, it's not the most practical vehicle to drive in California traffic, let alone that it will draw the small penis humiliation pinkie wave from hot chicks who spot the flashy Red sportscar.
Who would have predicted that Glee would became a sleeper hit, plus gather a huge rabid fan base. How many shows boast a claim to fame these days and don't just end up canceled in red letters. Why not celebrate being a financial winner and tv ratings success with a Red Ferrari? Cory did come from humble beginnings, though I haven't been able to find out what his former ride was, but his first job while a fledgling actor, was working as one of those annoying Walmart greeters! Oh, the humiliation!
I can say I've only stepped into a Walmart once. It was truly an experience I will never forget, which began with the annoying Walmart greeter delivering a monotone welcome as if he were a talking doll and someone had pulled the string in his back. Then as I began meandering thru the maze of aisles, I began feeling dizzy, I must have descended into the first level of Hell. The aisles were populated by strange demonic and ill-dressed creatures. I extricated myself very quickly, vowing never to return. I now refer to Walmart as Hellmart. Perhaps Cory has the never-to-return feeling about his first job. But in retrospect, it was just a means to an end, and ending up in a Red Ferrari California, even though a Red Ferrari is a small penis humiliation classic, officially puts the past behind him.
Image c/o INFDaily