Fallacy (or should I say Phallus-y): Buying an expensive Red sports car will increase the size of your small penis!
Fact: Buying an expensive Red sports car will increase girls' knowledge of your small penis and therefore, your small penis humiliation!
One eBay UK "member" found out the "hard" way (hey, puns are just rolling off my keyboard) that a shiny fast Red Ferrari does not increase the size of a little dick and only adds to small penis humiliation, so much so, that he tried to auction it off on eBay.
Check out the 1984 Ferrari Testarossa depicted below. A classic Red Italian stallion featuring 385 horsepower, the Testarossa first debuted in 1984 and was named for the daughter of Ferrari's founder who was a redhead. (Testarossa means redhead in Italian). Redheads are also considered good luck in Italy. In fact, Italians will touch someone's red hair for luck. No luck was needed in the case of the Testarossa becoming an instant classic in the Ferrari line. However, the eBayer trying to part with his "red car small penis" Testarossa had no luck with his auction.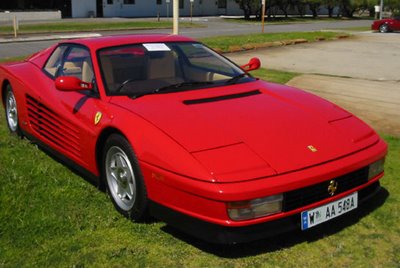 But when reviewing the eBay member's auction history, to his small penis humiliation and embarrassment everyone could see what he last purchased: a Doc Johnson Titan Penis Enlargement Pump!
At least Doc Johnson added a caveat to the description of their Penis Enlargement Pump, unlike the Red Ferrari… The Doc Johnson Penis Enlargement Pump disclaimer detailed that some men declare the use of penis enlargement pumps as being effective tools for increasing size of their little "tools". Others have reported that Penis Enlargement Pumps do not have any lasting effect on small penis size. It is acknowledged that penis pumpers can extend the length of their small dicks while using the pump, but have found their small penises will return to original small penis humiliation size after using the device.
The same caveat, it appears, could be applied to Ferraris…
Not only will a Red Ferrari not make a small penis bigger, it may also make it smaller! To all the girls who see any man driving it!
Image c/o eBay.co.uk
from peewee, UK blog correspondent…
Men's car color choices either drive women wild or drive women away. A survey commissioned by a prominent UK auto insurance group found that the right color of a car was far more important than its shape or size for women. More than 50 percent of the respondents said they would try to get a closer look at a driver and would probably flirt with him if the color of his car caught their eye. Three-quarters of women said the color of a car was the key to their attitude toward a driver. (Are we leading up to Red Car? Small Penis! Read on…) Last but not least, one out of ten respondents admitted having a date with a man because the color of his car created a favorable impression on her.
Silver was the sexiest color for British women. Perhaps the color silver reminds them of a life full of glamor. Incidentally, silver cars are 50 percent less accident prone, according to official statistics on major traffic accidents.
Black came in second in the survey. The color is usually associated with wealth, security and comfort. In a popular pubic stereotype, big black cars are for mobsters or those in highest command. Needless to say, some ladies would not mind keeping company with members of either group.
Third was Red, the color of passion, speed, daredevilry and small penis humiliation. However, there was an age gap in those who preferred this color, only 18 – 19 year olds and women beyond their prime (over 40) fell for red. Red cars were a bleak preference for women at their sexual peak (20's, 30's). Perhaps these women know the inherent small penis humiliation that these drivers are advertising when they drive Red cars! Whereas desperate cougars will go for any racy fellow regardless of his humiliating small penis lack of endowment.
Men who drive green, gray or white cars had better have their vehicles painted otherwise if they want to score. According to the survey, green, gray or white cars do not have any sex appeal for women, for a variety of reasons. It is believed that men with a penchant for green will always be clumsy and awkward in their approach to sex. It is also thought that the color gray is preferred by those who are indecisive.
the only man, dead or alive, who women would lust after in a green car! ~Sara
Looking for a deal on a used Red luxury sports car? If you don't mind traveling to Dubai or dusting off a bit of sand, you can buy a Red sportscar repo, cheap. Of course, it will cost you a trip to Dubai to buy it, shipping to your destination, taxes, tariffs, modifications to your country's emission standards, but all that aside, bargains await! Even Dubai has not escaped the wrath of the wrecked economy. Primarily British expatriates, working in Dubai in the construction or oil biz, signed on the dotted line for hefty car loans to finance primo wheels to look like they fit in with the nouveau riche of the world's biggest oil and building boomtown.
Now in Dubai, I'm not sure if "red car, small penis" holds true for all drivers, but I would imagine function follows form at least for the UK expats. But unlike in the US, where if your car gets repo'd, you get a smack on your credit report, Dubai arrests debtors and throws them into debtors prison! Some expats are stuck in Dubai, stripped of their passports, trying to work off their debts however they can in order to avoid jailtime. Talk about Financial Domination!
Most of us who live in big cities regularly see abandoned cars on the streets, the cars get stickered and eventually towed, but what we don't usually see are cars like this: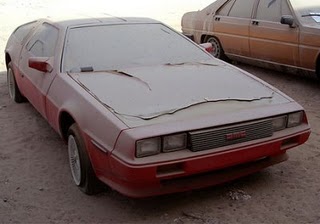 or this: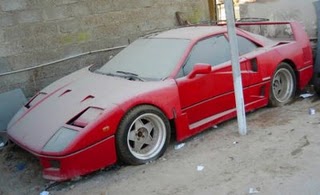 …covered in sand, left abandoned by their owners, who most likely fled the country. The largest concentration of abandoned vehicles is at the Dubai airport. Is it considered the penultimate small penis humiliation to abandon your Red sportscar in an airport parking lot before you flee the country?