Posts Tagged 'Celebrity Red Car'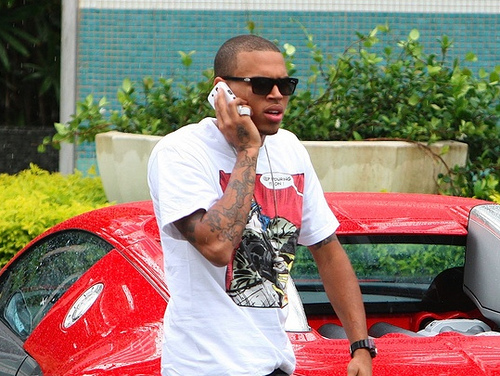 Girls know that guys never grow up. Consider the epic saying about the only difference between men and boys is the size and price of their toys. In this case, scofflaw rapper Chris Brown proves it with a Hot Wheels inspired custom paint job on a Lamborghini. Since Rihanna used to be involved with him and she is a Size Queen known for despising little dicks, it can be deduced that Chris Brown isn't under-endowed. However, he's known for being a dick of a different kind, obviously a fairly wealthy one, who can afford a collection of pricy whips including this Hot Wheels Lambo.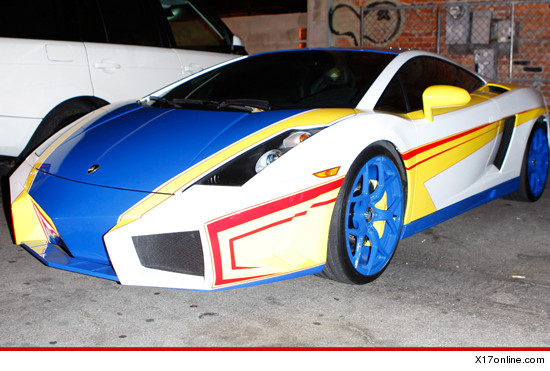 With a net worth of over 20 million from rapping since he was 14, he has collected some unusual rides in addition to the Hot Wheels big boy sports car, including a custom painted Jet Fighter inspired Lambo, an uber expensive Red Bugatti Veyron (same color and model that record mogul Birdman owns), a black Porsche Turbo coupe, a black Range Rover, a blue Porsche Panamera, a Red Lamborghini Aventador and a classic Chevy Impala. New money is always showy. And new money rappers want to show off their wealth. For Chris Brown, his car collection shows off his wealth on wheels.
photo credit of Hot Wheels Lambo – X17Online.com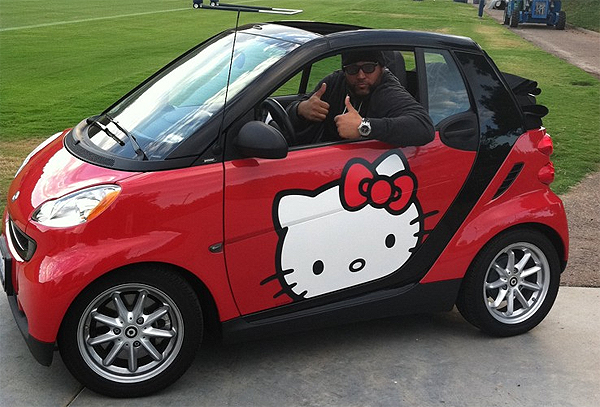 Now there is no way in Hell-o Kitty this red car's driver has a small penis! Antonio Garay, 6′ 4 and 320 pound nose tackle for the New York Jets loves his red Hello Kitty Smart Car. In fact, using the Google predictive search, as soon as you type in his name, the words smart car appear right after. Therefore, he is searched more for his infamous smart car than his years of NFL stats! He drives this two-seater convertible, because he thinks it's cool. And why not. Everyone recognizes the signature ride wherever he goes. His whip is anything but girlie when he's seated behind the wheel. And there can be no humiliation for driving a sensible vehicle. When so many athletes blow their futures by overspending on pricey sports car collections, expensive cribs and other showy bling, owning a relatively inexpensive and catchy looking car is a superior choice. Garay promotes his own way of doing things while displaying his personal style, including sculpted multi-color artsy hair and customized iPhone cases. Perhaps this style-meister will go into personalized product design after his NFL career is over.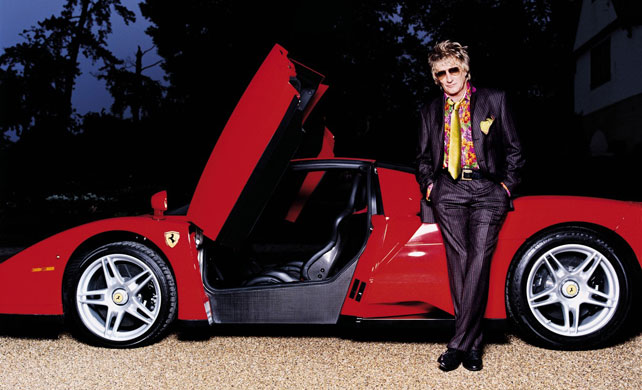 There is no shortage of famous celebs riding around in fiery red sports cars revealing more about themselves than they realize. This blog has been documenting the relationship between driving a red car and having a small penis for years. Famous crooner Rod Stewart is no exception to the small penis humiliation rule. Rod recently confessed that his "little rod" was made even smaller by taking steroids to combat inflammation of his vocal cords during early concert touring days.
Most men who fantasize about becoming famous rock stars want to get filthy rich as well as bed a bevy of beautiful women. While Rod was getting rich, his rod was being shriveled due to steroid use. Instead of hiding in shame, he publicly advertised to the world he had a small penis by motoring around in his Red Ferrari Enzo, years before he revealed his small penis humiliation! Rod's little rod and red hot rod belong together! Everyone knows that cruising in a red car is signaling to the world you have a small penis! Talk about total small penis humiliation. Rod claimed that steroids reduce the swelling in any membrane, not just the vocal cords, but also the "membrane" in a guy's pants. Cue PSA for the biggest reason not to take steroids.
This peen shrinkage news becomes more timely with all the steroid talk in the baseball world making it easy to identify which players are sporting small packages due to 'roid abuse. Players on MLB's steroids list are not only going to be publicly humiliated by being suspended, but also sports fans will know each of those players shrunk their peens in order to play ball and get filthy rich. Poor ARod and Ryan Braun are now clearly among the league's smallest endowed players. Oddly enough, neither drive red sports cars. Yet.

Rod's Red Hot Rod at a British car show
Nothing tells the world you have a small penis more than driving a Red Ferrari sports car around SoCal. And if you're Ashton Kutcher, not all the millions you have accumulated from your films, tv shows and successful tech deals can make up for having a small penis. Not even having Mila Kunis as your new girlfriend can serve as sweet solace for lacking in size. When women are asked: Does Penis Size Matter – the blazing majority would answer: Size Matters. Obviously, size doesn't matter to Mila Kunis, since her former long-term boyfriend was McCaulay Culkin. Mila Kunis must truly fall in love and love is blind and blind to penis size. Hmmm, maybe Mila Kunis does choose her boyfriends for size, wallet size, that is. Jumping from Culkin to Kutcher represented a 10x net worth boyfriend leap to $140 million. Nice!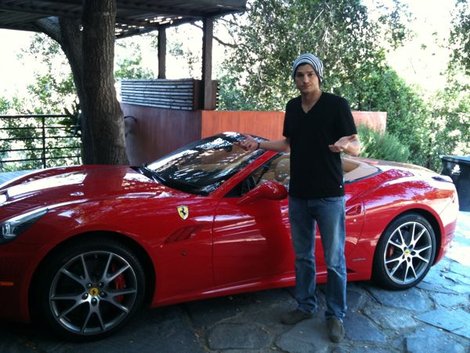 Ashton Kutcher first popped up on the Red Car Small Penis radar when he bought a Red International Pickup Truck, the largest pickup truck in production at the time. It's true! Red Truck Small Penis and Big Truck Small Penis. Double tiny cock whammy for Ashton. And now with his Red Ferrari, Ashton Kutcher continues to buy small penis humiliation on four wheels.
I originally blogged about Tommy Hilfiger and his Red Ferrari several years ago when I was running my small penis humiliation blog Tumblr style. The former Red Car Small Penis phone sex blog featured small penis humiliation photos accompanied by short and sassy Red Car Small Penis descriptions. Back in 2009 my opinion was that Tommy Hilfiger and his Red Ferrari Enzo definitely reflected the red car small penis syndrome. My opinion hasn't changed. For Tommy Hilfiger, a multimillionaire, buying a Red Ferrari Enzo would be like me buying a used Dodge Neon. And while wealth has its privileges, we are what we drive. That is one of the bottom lines of car ownership. Our car is the shell that the world sees and connects to us, it is a dramatic and powerful presentation of our selves, our battle armor that goes out on the road.
Tommy Hilfiger used to drive a vintage Jeep Wagoneer that was lovingly restored down to the wood side panels. (Pun intended, these old wooden side paneled cars are known as woodies.) This was the old Tommy Hilfiger, conservative family station wagon driver, who then upgraded to his mid-life crisis toy, the Red Ferrari Enzo. No doubt that people recognize Tommy Hilfiger and his Red Ferrari Enzo in Connecticut where he lives and cruises. But women will wonder when they know that the American driver of a Red sports car is rich, whether the Red sports car is a conspicuous symbol of wealth (with a dash of mid-life crisis) or small penis humiliation.