In China, the Red Ferrari is not the cliche on wheels for the small penis driver, instead, it is the sports car to own and drive as a flashy show of wealth. Yes, it's true, the Ferrari is the vehicle of choice for the rich in China and the most popular Ferrari paint color in China is Red. Rich Chinese women drive Red Ferraris as status symbols, noted Hannah Rosin, author of "The End of Men and The Rise of Women". Rich Chinese businessmen and aristocrats buy their adult kids Red Ferraris as symbols of their nouveau riche status, even though the Chinese culture, for the most part, does not condone blatant displays of wealth.
Red Ferrari Chinese Limited Edition
Ferrari manufactured a limited edition run of the Ferrari 458 Italia in Red for the Chinese market only (shown below) and all of the sports cars sold out despite the $954,000 price. However, Ferrari took some heat for their culturally insensitive advertising of the Italia on a section of a Ming Dynasty fortress wall in the city of Nanjing. This advert included a stunt where the depicted Ferrari burned rubber and may have left permanent tire marks defacing the monument. And while Ferrari apologized for their disrespect of the historic wall, it was also revealed that Ferrari had paid the city for the privilege of showcasing the limited edition vehicle. Perhaps, Ferrari reps didn't mention to officials that they were going to do more than just drive the vehicle up onto the wall's ramparts for the ad. Since the incident, the word Ferrari was even blocked as a temporary search term in China. Censorship in action!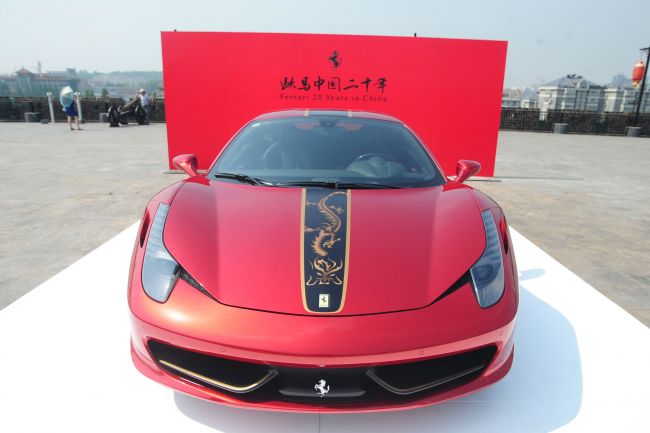 Red Ferraris for Red Royalty
One of the reasons why wealthy Chinese like Red Ferraris is that the young, rich and privileged Chinese are known as Red Royalty. Think of the US and UK equivalent of Blue Blood. Red Royalty are also called princelings, a moniker indicating their family money and upper class status. Thus, the Red Ferrari is the symbol for Red Royalty. Right click Open in a New Tab on the Infographic below for more details on the Red Royalty "celebrities" in China (yes, there is a Red Ferrari included!) One wealthy Chinese princeling even claimed he had never driven a Ferrari in defense against the media perception of his elitist playboy reputation.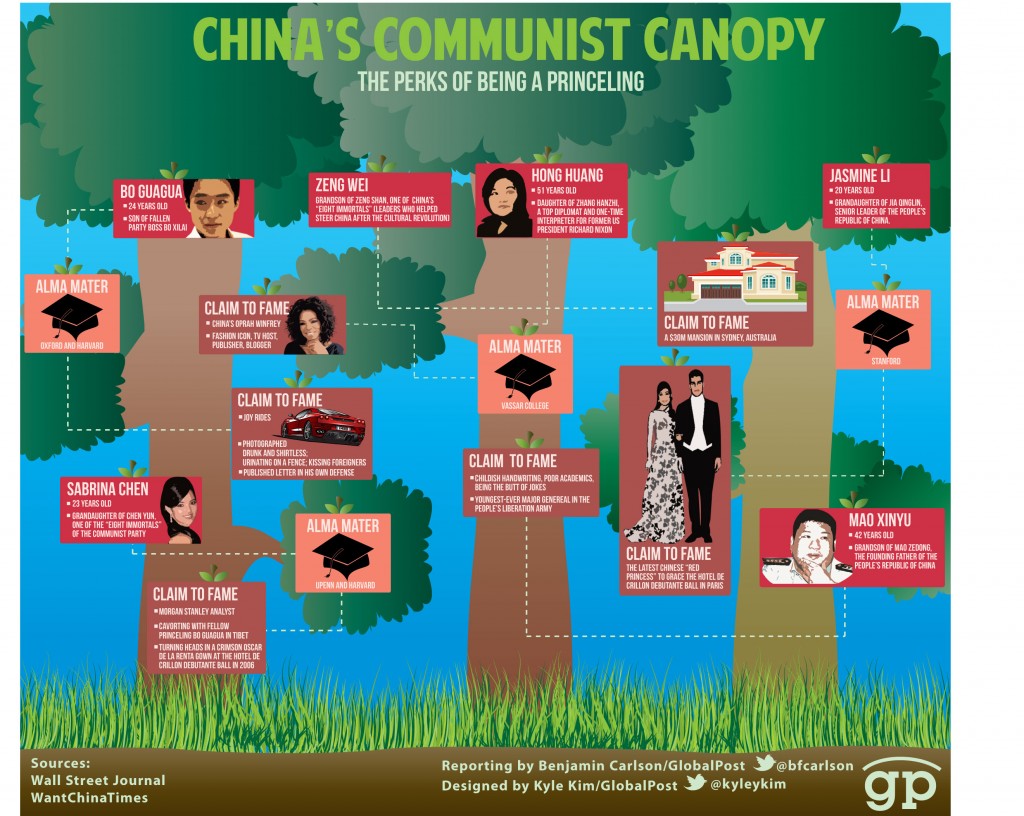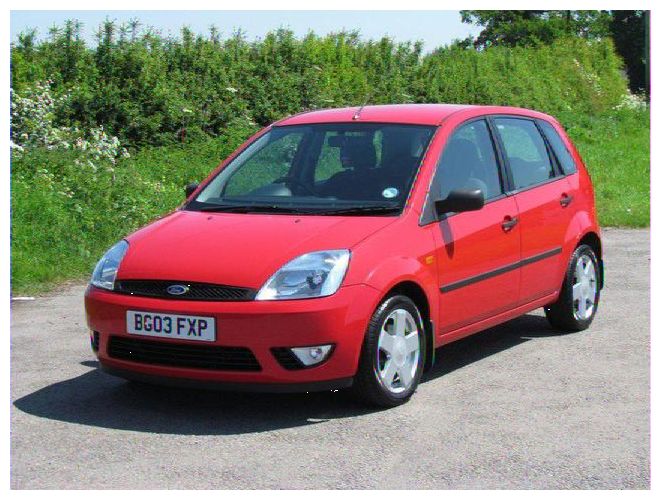 Let's look at a recent UK survey of men's and women's impressions of the opposite sex implied by their cars. Survey test subjects were shown two sets of photos. A split group of women were shown specific photos. One group was shown the photo of a man seated in a silver Bentley Continental GT and the other group was shown a photo of the same man seated in a red Ford Fiesta. A split group of men were shown the same woman seated in both of the cars. Women were asked to rate the level of attractiveness of the man. The man seated in the silver Bentley Continental scored much higher than the same man when seated in the red Ford Fiesta. For the men, there was no car bias difference in the woman's level of attractiveness.
If Red Car Small Penis were to interpret the findings on the women's tests: 1. A spendier ride will make any man appear to be more attractive 2. Women will place a higher degree of attractiveness on a man perceived to have money 3. A man seated in a red car, especially a cheap red car, is downgraded for desperately trying to be flashy. Plus, subliminally, you know these women inferred the men seated in the Fiesta had a small penis. If only the women had been asked about what size penises they thought these men had, small, average or large! Their answers would have reflected true small penis humiliation!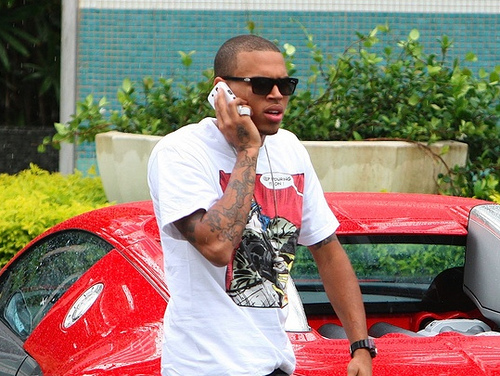 Girls know that guys never grow up. Consider the epic saying about the only difference between men and boys is the size and price of their toys. In this case, scofflaw rapper Chris Brown proves it with a Hot Wheels inspired custom paint job on a Lamborghini. Since Rihanna used to be involved with him and she is a Size Queen known for despising little dicks, it can be deduced that Chris Brown isn't under-endowed. However, he's known for being a dick of a different kind, obviously a fairly wealthy one, who can afford a collection of pricy whips including this Hot Wheels Lambo.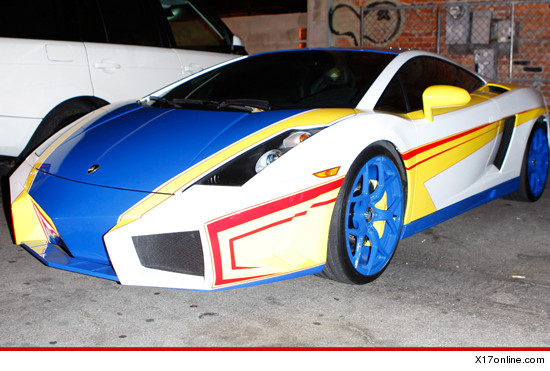 With a net worth of over 20 million from rapping since he was 14, he has collected some unusual rides in addition to the Hot Wheels big boy sports car, including a custom painted Jet Fighter inspired Lambo, an uber expensive Red Bugatti Veyron (same color and model that record mogul Birdman owns), a black Porsche Turbo coupe, a black Range Rover, a blue Porsche Panamera, a Red Lamborghini Aventador and a classic Chevy Impala. New money is always showy. And new money rappers want to show off their wealth. For Chris Brown, his car collection shows off his wealth on wheels.
photo credit of Hot Wheels Lambo – X17Online.com
You know what they say… most of the time it's true. Men buy flashy cars to get attention and to get over their 40-something issues. Women experience menopause, so do men! Miss Anna knows all about this phenomenon, she talks about it online, because she has so many members in midlife crisis. She was telling me about how many men are willing to serve her and impress her with their flashy cash, their own versions of red car offerings for their Mistress. Follow her on Twitter @mistressnylons
From jewelry to gift cards to financial domination tributes, Mistress Anna receives it all. She knows how to work these vulnerable men, how to make these money slaves happy and reward them for being loyal and surprising their Mistress with lots of gifts. She can train any man to become anything she wants. She is young and sexy and she loves older men with flashy red cars and flashy cash. And she loves to laugh at their small penises, haha! You can even see some of their small penis pics on her blog if you dare to look!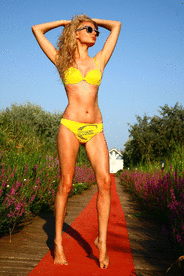 He shelled out $70K for a sporty red Tesla and will now be shelling out for a spendy vacation… in jail, rehab or a mental health facility. The hippie driver came to a full stop in the middle of daytime traffic on PCH in Pacific Palisades. He began stripping off his clothes outside of his car until he was completely au naturel. But that wasn't all. For over two hours, the man performed wacky, spacey dance moves while standing on the driver's seat, showcasing these moves through the open sun roof of his Tesla. Paramedics and beach patrol crew patiently waited for an opportunity to apprehend him. Mr. Red Tesla Small Penis closed out his hipster performance art walking atop the body of the car. Apres le cinema verite, he was straitjacketed and taken away on a stretcher.
In the meantime, bystanders broke out their cell phone cameras to record the event. The entertaining videos and photos are making the rounds in the media and popular social sites including Youtube. Going totally naked in public revealed the driver's tiny penis. As one video viewer commented, the red Tesla driver's pubic hair was longer than his naughty bits. Small penis humiliation right there. This red car driver will forever be known for having a mind meltdown on PCH whether it was a mental health issue or drug interlude. And, of course, he will be known for revealing visible proof of "red car small penis" and live forever in humiliating internet infamy. His only consolation will be that he is most likely well-heeled if he can afford a Tesla and that he can laugh all the way to the bank while wheeling around in his red EV. Despite his small penis.