In the South of France, there is a popular annual festival of Ferraris where dozens of Ferrari owners show off their powerful and pricey whips. La Grande Motte Festival of Ferraris benefits the Lions Club International which supports various charity efforts. However, dominant women like me can't let the charitable underpinnings of this event deter us from calling this festival the "Red Ferrari Mid Life Crisis" Fest.
Most Ferrari owners look like they bought their red sports cars during desperate mid-life crisis moments. As one of my girlfriends eloquently stated: "Forty year old guys with money buy red sportscars, because they think it will help them get laid." Ironically, the opposite is true. Buying a red Italian sportster will help mid-life crisis sufferers label themselves as (surprise!) mid-life crisis sports car buyers. Ripe for small penis humiliation and exploitation, European women view these men as under-hung fools, despite the size of their wallets. And only Euro golddiggers with an eagle eye for a man with money, will overlook Red Ferrari owner penis size in favor of wallet size.
Erotic hypnosis has found its way into mainstream advertising. It is well known that advertising utilizes covert elements of brainwashing. However, this Alfa Romeo Love Story ad features an erotic hypnosis voice track synched to a red Alfa Romeo 4C coupe cruising along a picturesque coast. This ad could have been filmed along Pacific Coast Highway or somewhere along the coast of Italy. The sexy hypno track is the perfect audio accompaniment to the sensual lines of the Alfa Romeo coupe. Red sexual signaling abounds.
Obviously, Alfa Romeo advertising is working because the Italian car manufacturer experienced the highest auto sales surge in 2017 in the US according to Bloomberg News.
Formula One superstar driver Lewis Hamilton, rumored to be well-hung, is now endowed with a red jet. Only a black stud could zip around in a red jet without a single trace of "Red Jet Small Penis" humiliation. To Hamilton, it's transpo and flash without taxes since his advisers found a creative way for him to avoid adding to the Queen's coffers. Find out more about Hamilton's UK VAT tax strategy on Business Insider. And find more pics of Lewis with his spendy private jet on his Instagram @lewishamilton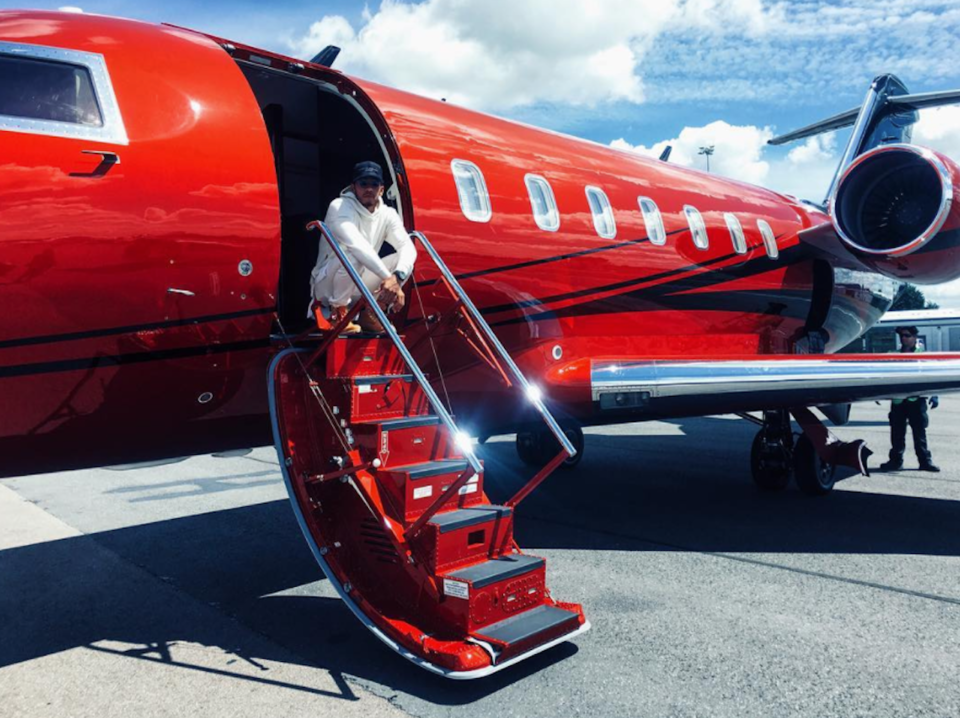 photo c/o Lewis Hamilton Instagram
In case you missed it, a Red Car Small Penis owner who found a nifty tax dodge
In China, the Red Ferrari is not the cliche on wheels for the small penis driver, instead, it is the sports car to own and drive as a flashy show of wealth. Yes, it's true, the Ferrari is the vehicle of choice for the rich in China and the most popular Ferrari paint color in China is Red. Rich Chinese women drive Red Ferraris as status symbols, noted Hannah Rosin, author of "The End of Men and The Rise of Women". Rich Chinese businessmen and aristocrats buy their adult kids Red Ferraris as symbols of their nouveau riche status, even though the Chinese culture, for the most part, does not condone blatant displays of wealth.
Red Ferrari Chinese Limited Edition
Ferrari manufactured a limited edition run of the Ferrari 458 Italia in Red for the Chinese market only (shown below) and all of the sports cars sold out despite the $954,000 price. However, Ferrari took some heat for their culturally insensitive advertising of the Italia on a section of a Ming Dynasty fortress wall in the city of Nanjing. This advert included a stunt where the depicted Ferrari burned rubber and may have left permanent tire marks defacing the monument. And while Ferrari apologized for their disrespect of the historic wall, it was also revealed that Ferrari had paid the city for the privilege of showcasing the limited edition vehicle. Perhaps, Ferrari reps didn't mention to officials that they were going to do more than just drive the vehicle up onto the wall's ramparts for the ad. Since the incident, the word Ferrari was even blocked as a temporary search term in China. Censorship in action!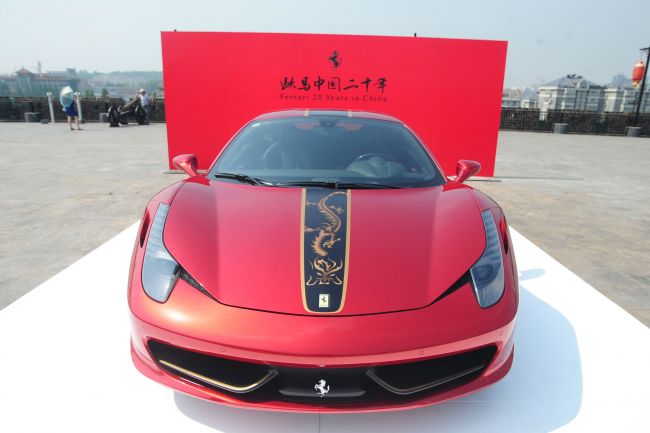 Red Ferraris for Red Royalty
One of the reasons why wealthy Chinese like Red Ferraris is that the young, rich and privileged Chinese are known as Red Royalty. Think of the US and UK equivalent of Blue Blood. Red Royalty are also called princelings, a moniker indicating their family money and upper class status. Thus, the Red Ferrari is the symbol for Red Royalty. Right click Open in a New Tab on the Infographic below for more details on the Red Royalty "celebrities" in China (yes, there is a Red Ferrari included!) One wealthy Chinese princeling even claimed he had never driven a Ferrari in defense against the media perception of his elitist playboy reputation.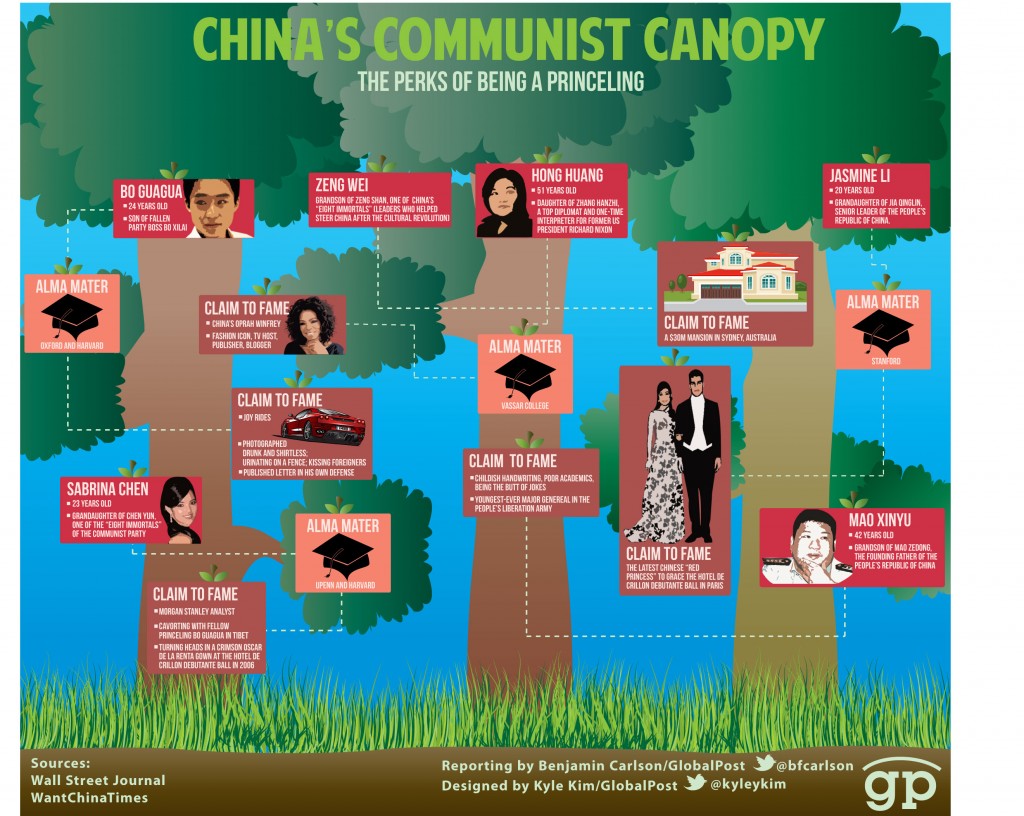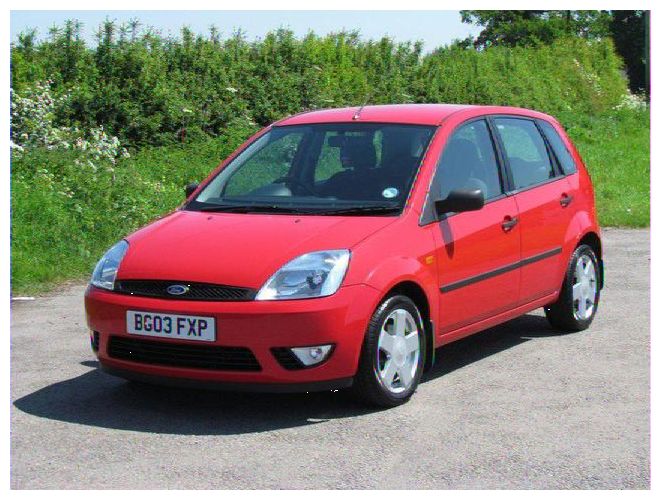 Let's look at a recent UK survey of men's and women's impressions of the opposite sex implied by their cars. Survey test subjects were shown two sets of photos. A split group of women were shown specific photos. One group was shown the photo of a man seated in a silver Bentley Continental GT and the other group was shown a photo of the same man seated in a red Ford Fiesta. A split group of men were shown the same woman seated in both of the cars. Women were asked to rate the level of attractiveness of the man. The man seated in the silver Bentley Continental scored much higher than the same man when seated in the red Ford Fiesta. For the men, there was no car bias difference in the woman's level of attractiveness.
If Red Car Small Penis were to interpret the findings on the women's tests: 1. A spendier ride will make any man appear to be more attractive 2. Women will place a higher degree of attractiveness on a man perceived to have money 3. A man seated in a red car, especially a cheap red car, is downgraded for desperately trying to be flashy. Plus, subliminally, you know these women inferred the men seated in the Fiesta had a small penis. If only the women had been asked about what size penises they thought these men had, small, average or large! Their answers would have reflected true small penis humiliation!