This Red Lamborghini is "pimping the mix" as trendy club deejays say, but a different kind of mix, Readymix, as in concrete. Since the Miami, Florida building bust, I'm sure Readymix Concrete isn't busy pouring their mix, but obviously the CEO is out pimping the mix and his small penis humiliation ride, a Red Lamborghini.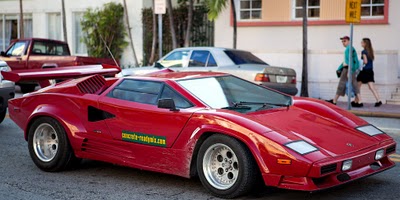 It's not unusual for a wealthy CEO to be driving around Miami Beach, showing off his Red Car Small Penis, except in this case, he's emblazoned his small penis humiliation Italian sports car with a bumper sticker that advertises his company.
Question: Why ruin an expensive Red Lamborghini with a cheesy yellow and green bumper sticker on the side door?
Answer: Small Penis, Large Tax Write-off!
In this case, I suspect pimping the Readymix means the Red Lamborghini is considered a company car tax write-off. Not only small penis humiliation, but also public humiliation to have the pricey Red Lamborghini defaced by a tacky bumper sticker, even if it means saving tax bucks. I bet Mr. Readymix's accountant told him to slap on a bumper sticker with the company name as proof in case the tax man were to unexpectedly show up, suspicious that Mr. Readymix is trying to get something past Uncle Sam. So the tacky bumper sticker beats a tax audit, but driving a Red Lamborghini does not trump small penis humiliation!