I saw the flash of orange on Biscayne. Only caught a millisecond of a glance at the driver, but in that millisecond I vouched: small penis! Since Red and Yellow combine to make Orange, it makes complete sense that Orange is in the small penis humiliation car color range. As for the car, it was a Lambo. Specifically a Lamborghini Murcielago. And a large price tag to pay for a small penis — @$290K!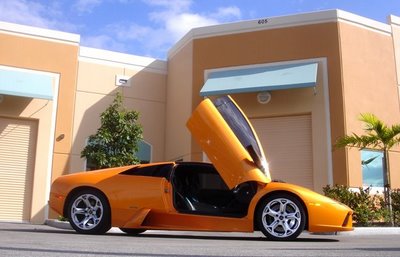 So, is Orange the new Red when it comes to flashy small penis humiliation wheels? Is Orange less common than Red and therefore even flashier and more of a statement to the effect: I May Have a Small Dick, but I Have a Lot of Cash?
But I nearly forgot, there are rental car companies that feature only exotic sportscars around Miami. If you've got the cash or credit limit on your credit card, why rent trash? Dream Cars of Miami will rent this Orange Lambo for $1,750 per day. So it may have been rental Viagra on wheels for a small penis dickster driver and definite small penis pinkie wave humiliation to drive around for the day.
Now on the West Coast, on an equally famous drive, PCH a/k/a Pacific Coast Highway, we have an Orange Maserati (photo submitted by a Red Car? Small Penis! blog reader). I don't know my Maserati models, so perhaps a reader can I.D. this small penis humiliation model. But here is an Orange Maserati revving it up at a Red light for all girls to see and sneer: Small Penis! Or give the small penis sign to the driver! While the driver may have millions, driving this flashy Orange Maserati means only one more thing: Orange is the New Red!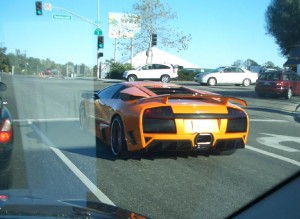 Lambo photo c/o gothamdreamcars.com/miami
Maserati photo c/o private collection