from the heart of Dixie, an SPH article submitted from a Red Car Small Penis fan…
After reading your blog entry on 'Small Penis Humiliation New York City Style', I realized that there is a certain type of vehicle SPH happening in Atlanta, Georgia (and probably in other southern cities as well). Like with your NYC contributor, I don't believe that the Atlanta based small penis humiliation is necessarily only related to Red cars. I think I've stumbled across a particular small penis humiliation vehicle that is generating SPH opportunities, the pick-up truck.
I've noticed that in the south, and especially the areas surrounding the city of Atlanta, it's pick-up truck land. Guys from all different socioeconomic classes drive these trucks. From bankers, to business owners, to mechanics, to Walmart stockboys, to a whole host of other professions, the pick-up truck is the vehicle of choice for a lot of men. It seems that guys are trying to be noticed in their big trucks with their shiny chrome wheels and their pimped out rides. It's as if they're trying to use their trucks as sexual mating signals. Instead of the classic Red signal, they're trying to associate the large truck with something large in their pants. There's a major problem with this rationale though.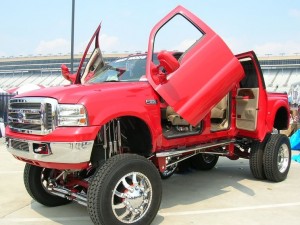 The problem, it appears, is that women have noticed and have associated these big rides as men overcompensating for what's in their pants! While I don't drive a Red car or a pick-up truck, I've seen first hand a gaggle of girls laugh hysterically as one of these trucks pulled into a parking lot. Plus it's been on more than one occasion where I have seen girls laugh and giggle when they see a guy with a pick-up with oversized tires drive by, giving each other the eye roll and the universal small penis hand signal with their thumb and forefinger.
From what I've seen, the color of the pick-up truck isn't the determining factor of small penis humiliation. It's just the fact that it's a pick-up. The funny thing is that the two most popular colors appear to be Red and black. So a Red pick-up seems to definitely sign of a beta male signaling for sex, but getting small penis humiliation instead. I have to wonder if choosing a black pick-up truck is also a subliminal message that guys are subconsciously conveying.
From my empirical observations, it appears that men are outwardly trying to overcompensate for their small penis size with these pimped out trucks. What amazes me is that women have already picked up on this and know exactly what's going on and are jumping all over the small penis humiliation. So while NYC is BIG watch small penis humiliation, Atlanta is BIG pick-up truck small penis humiliation!!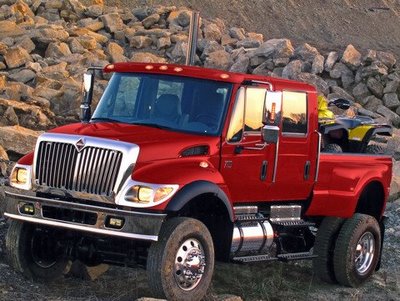 Would you want to spend a whopping $70,000 – $130,000 to advertise that you have a small penis? Ashton Kutcher did. I wonder if he bought the Red International Pick-up small penis humiliation truck depicted here? For those of you who want to make a "big" statement while driving down the street or highway, why not buy a mere Ford 250 and pimp your ride or convert another large sized pick-up truck into a street legal Monster Truck? Not when you can own the largest small penis humiliation pick-up on the road and a gas guzzler with the lowest mpg of any pick-up in its size class.
Fortunately or unfortunately, the International CXT Pick-up Truck was dropped from production. Economy issues, increased fuel cost issues, didn't attract the right buyer issues… The International Pick-up Truck was marketed to athletes with excess cash, celebrities with small penises and big egos and then on the more utilitarian side of the market: boat owners, horse and livestock haulers. Apparently, 99% of the SPH market didn't feel like they needed to buy a real truck to compensate for having a small penis. Let alone how difficult it would be for anyone with a small penis to master driving the complex truck transmission! Besides girls would just laugh with humiliation as the tiny dick loser driver would continually grind the gears! Yes, the International Pick-up did come with a truck transmission and not a regular automatic or standard tranny. And in this case, tranny is automotive parlance for transmission, not for a shemale!
Image c/o International Trucks