Erotic hypnosis has found its way into mainstream advertising. It is well known that advertising utilizes covert elements of brainwashing. However, this Alfa Romeo Love Story ad features an erotic hypnosis voice track synched to a red Alfa Romeo 4C coupe cruising along a picturesque coast. This ad could have been filmed along Pacific Coast Highway or somewhere along the coast of Italy. The sexy hypno track is the perfect audio accompaniment to the sensual lines of the Alfa Romeo coupe. Red sexual signaling abounds.
Obviously, Alfa Romeo advertising is working because the Italian car manufacturer experienced the highest auto sales surge in 2017 in the US according to Bloomberg News.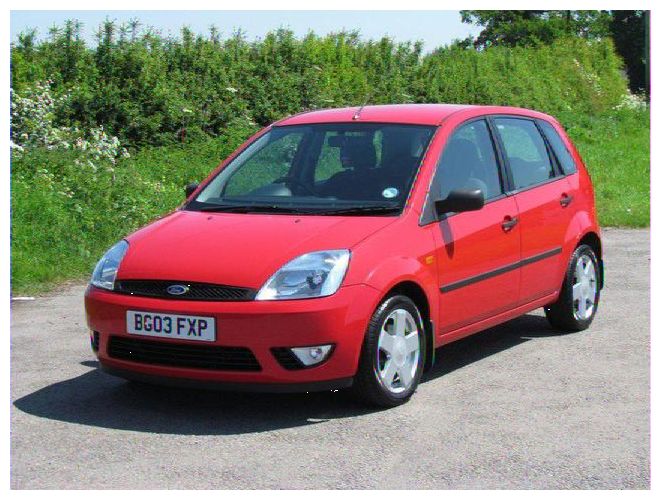 Let's look at a recent UK survey of men's and women's impressions of the opposite sex implied by their cars. Survey test subjects were shown two sets of photos. A split group of women were shown specific photos. One group was shown the photo of a man seated in a silver Bentley Continental GT and the other group was shown a photo of the same man seated in a red Ford Fiesta. A split group of men were shown the same woman seated in both of the cars. Women were asked to rate the level of attractiveness of the man. The man seated in the silver Bentley Continental scored much higher than the same man when seated in the red Ford Fiesta. For the men, there was no car bias difference in the woman's level of attractiveness.
If Red Car Small Penis were to interpret the findings on the women's tests: 1. A spendier ride will make any man appear to be more attractive 2. Women will place a higher degree of attractiveness on a man perceived to have money 3. A man seated in a red car, especially a cheap red car, is downgraded for desperately trying to be flashy. Plus, subliminally, you know these women inferred the men seated in the Fiesta had a small penis. If only the women had been asked about what size penises they thought these men had, small, average or large! Their answers would have reflected true small penis humiliation!
He shelled out $70K for a sporty red Tesla and will now be shelling out for a spendy vacation… in jail, rehab or a mental health facility. The hippie driver came to a full stop in the middle of daytime traffic on PCH in Pacific Palisades. He began stripping off his clothes outside of his car until he was completely au naturel. But that wasn't all. For over two hours, the man performed wacky, spacey dance moves while standing on the driver's seat, showcasing these moves through the open sun roof of his Tesla. Paramedics and beach patrol crew patiently waited for an opportunity to apprehend him. Mr. Red Tesla Small Penis closed out his hipster performance art walking atop the body of the car. Apres le cinema verite, he was straitjacketed and taken away on a stretcher.
In the meantime, bystanders broke out their cell phone cameras to record the event. The entertaining videos and photos are making the rounds in the media and popular social sites including Youtube. Going totally naked in public revealed the driver's tiny penis. As one video viewer commented, the red Tesla driver's pubic hair was longer than his naughty bits. Small penis humiliation right there. This red car driver will forever be known for having a mind meltdown on PCH whether it was a mental health issue or drug interlude. And, of course, he will be known for revealing visible proof of "red car small penis" and live forever in humiliating internet infamy. His only consolation will be that he is most likely well-heeled if he can afford a Tesla and that he can laugh all the way to the bank while wheeling around in his red EV. Despite his small penis.
Did these women really fall for the braggadocio of the wannabe wealthy losers conducting a social experiment using a Red Ferrari as bait? Apparently, they did. Sad, sad, sad. These women revealed themselves to be opportunists or golddiggers who would take the owners for a ride, a financial domination ride that is. Since it was a clever prank, recorded for Youtube posterity, you can judge for yourself. These women obviously recognized the red Italian whip as a spendy set of wheels. Their impression was that the owner would have to be rich. However, they didn't consider that the owner could be leasing it and faking rich or even worse, a prankster. Maybe the Red Ferrari owner's penis size didn't matter to them if their nefarious intentions were to get on the golddigger gravy train.
There are obviously women who will sleep with sugar daddies, silverbacks and rich men with small penises for the luxury lifestyle. Using the Red Ferrari as the trap was so classic. If any other color Ferrari was used, such as black or yellow, it would not have had the same allure as the Red Ferrari.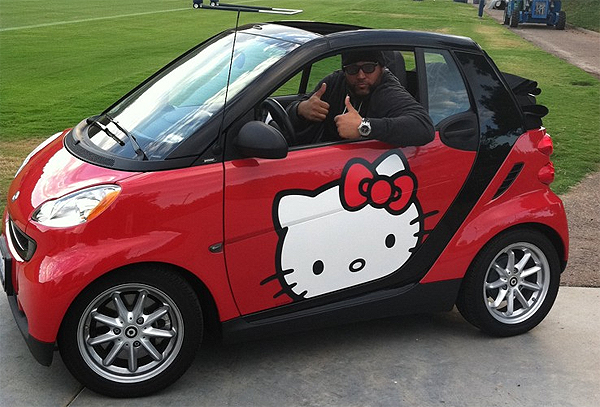 Now there is no way in Hell-o Kitty this red car's driver has a small penis! Antonio Garay, 6′ 4 and 320 pound nose tackle for the New York Jets loves his red Hello Kitty Smart Car. In fact, using the Google predictive search, as soon as you type in his name, the words smart car appear right after. Therefore, he is searched more for his infamous smart car than his years of NFL stats! He drives this two-seater convertible, because he thinks it's cool. And why not. Everyone recognizes the signature ride wherever he goes. His whip is anything but girlie when he's seated behind the wheel. And there can be no humiliation for driving a sensible vehicle. When so many athletes blow their futures by overspending on pricey sports car collections, expensive cribs and other showy bling, owning a relatively inexpensive and catchy looking car is a superior choice. Garay promotes his own way of doing things while displaying his personal style, including sculpted multi-color artsy hair and customized iPhone cases. Perhaps this style-meister will go into personalized product design after his NFL career is over.