Posts Tagged 'Humiliation'
The driver shelled out $70K for a sporty red Tesla and will now be shelling out for a spendy vacation… in jail, rehab or a mental health facility. The hippie driver came to a full stop in the middle of daytime traffic on PCH in Pacific Palisades. Then, he began stripping off his clothes outside of his car until he was completely au naturel. But, that wasn't all. For over two hours, the man performed wacky, spacey dance moves while standing on the driver's seat, showcasing these moves through the open sun roof of his Tesla. Paramedics and beach patrol crew patiently waited for their moment to apprehend him. Mr. Red Tesla Small Penis closed out his hipster performance art walking atop the body of the car. Apres le cinema verite, he was straitjacketed and taken away on a stretcher.
In the meantime, bystanders broke out their cell phone cameras to record the event. The entertaining video and amusing photos are making the rounds in the media and popular social sites including Youtube. Going totally naked in public revealed the driver's tiny penis. As one video viewer commented, the red Tesla driver's pubic hair was longer than his naughty bits. Small penis humiliation right there. This red car driver will forever be known for having a mind meltdown on PCH whether it was a mental health issue or drug induced. And, of course, he will be known for revealing visible proof of "red car small penis" and live forever in humiliating internet infamy. His only consolation will be that he is most likely rich as hell if he can afford a Tesla and that he can laugh all the way to the bank every day while wheeling around in his red EV. Despite his small penis.
One of the major issues in buying and owning a coveted red sports car is learning how to drive a high horsepower vehicle without looking like a horse's ass. This French Ferrari owner obviously needed a few driving lessons before tooting his small penis mobile around town. In the South of France, there is a popular annual festival of Ferraris where dozens of Ferrari owners show up to show off their powerful and pricey rides. Perhaps a little tip on how to operate the stick shift transmission might have helped this driver do something simple like cross the street without stalling out his spendy whip and drawing humiliation to himself from the crowd.
This rich Ferrari owner looks like he bought his red sports car during a desperate mid-life crisis moment. As one of my girlfriends eloquently stated: "Forty year old guys with money buy red sports cars, because they think it will help them get laid." When, ironically, the opposite is true. Buying a red Italian sportster will help mid-life crisis sufferers label themselves as (surprise!) mid-life crisis sports car buyers. Ripe for small penis humiliation. Women view these men are pathetic under-hung fools, despite the size of their wallets. And any women attending this festival, perhaps with an eagle's eye out for a man with style and money, will think this French Ferrari owner is a fool who can't operate his shiny red penis either. He will have nearly zero chance of getting laid on the tachometer.
In the classic 1980's John Hughes film "Ferris Buellers Day Off", Ferris Bueller's best friend, Cameron, blasts his father for caring about his beloved 1961 Red Ferrari California more than his own son. Ferris, Cameron and Sloane (Ferris' girlfriend) take a joyride in the Ferrari on the eponymous day off, tooting around Chicago. They return the Ferrari to the showroom garage in the modernist home, whereupon Cameron notes that their drive racked up 200 miles on the odometer. He knows this will make his father crazed. His father is anal retentive about the mileage on the Ferrari and it will be obvious that Cameron took the expensive collector car out for a drive. Higher mileage on the collector Ferrari California would decrease its value. Cameron and Ferris deduce a plan to run the Ferrari in reverse while lifted up with a jack to spin the odometer back. However, as everyone who has watched the film knows, the plan backfires. When Cameron is raving about his father's obsession with his cars and how he should just stand up to his father and take responsibility for once, he accidentally knocks into the jack and the Ferrari rear wheels fall to the garage floor. Then the Ferrari skids right through the showroom garage plate glass window, crunching tree branches before landing in a ravine below. When the bough breaks, the Ferrari will fall…
A special replica of the 1961 Red Ferrari California was used for the Ferris Bueller Car Crash Scene, since it would have been too expensive to wreck a $350K Ferrari on the relatively small movie budget. Most likely no director, regardless of budget, would wreck a Ferrari when a cheaper replicar could be built and utilized for such a scene. Today's value for that rare Red Ferrari California is over $10 million dollars which illustrates the value of older collector Ferraris. While there isn't a relationship of the Red Ferrari to small penis humiliation in this film, the father's obsession with the car and ultimate destruction of the car holds symbolic value. And while it is open to the audience to imagine what the humiliating confrontation will be like when Cameron's father finds out the Ferrari has been destroyed, Cameron seems to feel relieved that he has done something so shocking to a car that his father loves, destroying this symbol of displaced parental affection.
Apparently, it's not humiliating enough to be a man with a small penis driving a red car. According to a new study from the UK, birds poop on red cars more than any other color car. The birds poop on Red cars study wasn't able to conclusively pinpoint why birds seem to target Red cars more frequently than cars of other colors. The study suggested a few theories, but failed to touch on the one that is quite obvious to me. These instinctive creatures apparently know exactly what women have known for years – that men who drive Red cars have a small penis and need to suffer the humiliation associated with having such an inadequate appendage!!! Bird droppings = small penis humiliation. Park your Red car at the beach and the seagulls will assault your car and make girls laugh even more about your tiny dick or throw you the small dick humiliation pinkie salute when they see you getting into your Red car with the customized polka dotted paint job.
So… not only do short dicked men receive small penis humiliation from girls for driving their Red cars around, but also these men have to contend with the humiliation of birds pooping on their rides more than any other color car!!!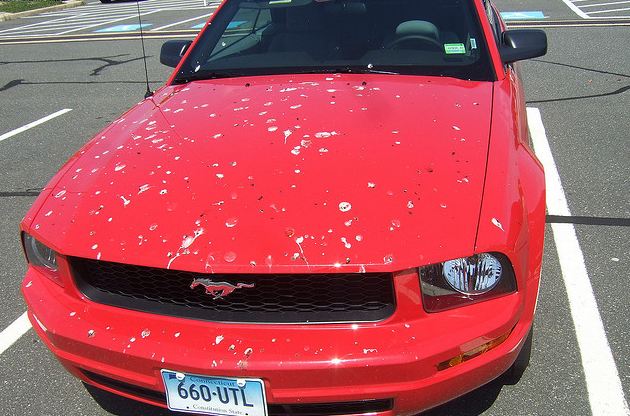 In this clever political satire video by Romney Girl (check her out at RomneyGirl.org), the hot blond Romney Girl dresses as the Swiss Miss (a little homage to Mitt's Swiss bank accounts) while singing along to Aqua's "Barbie Girl" melody. Romney Girl has penned witty and sarcastic new lyrics to the Aqua tune, bashing Mitt for his bourgeois lifestyle, hiding his millions in overseas bank accounts, going "taxless", silver tipping his hair and more. In the opening of the video, she skips up to Mitt in his Red Mustang and asks him "do you have something to hide" which in addition to the money he has stashed in offshore accounts and the tax returns he won't reveal, could Romney Girl be hinting at: Mitt is also hiding a small penis! Why else would she have artfully placed the Mitt Romney lookalike in a Red sports car unless… Mitt Romney Red Car Small Penis!
Mitt and the Swiss Miss Barbie Girl ride around in New York City and various high faluting or fellating places like a mansion with bubbling spa, champagne that popped its foamy money shot and a yacht club. Supposedly Mitt owns a Red Mustang convertible, a midlife crisis birthday gift from his wife! Check out my new favorite small penis humiliation video, Romney Girl, on Youtube. Oops, it seems that Universal Music Group didn't enjoy the parody of Aqua's "Barbie Girl" that Romney Girl used in her video and so the evil corporate magnates (Republicans?) requested that Youtube take down the video.
from a Red Car Small Penis blog reader: yes you are right, it's New York City. the bank is Chase Bank, where you see the flag flying across the building with pillars is the New York Stock Exchange, the bull is a symbol of the bull market for Wall Street and I'm pretty sure where the boats are moored is Chelsea Piers…
Six years ago Swedish gangster Bo Stefan Eriksson claimed the million dollar Red Ferrari Enzo that crashed and split in half on Pacific Coast Highway in Malibu had been driven by a mysterious German driver he dubbed "Dietrich". In this cinema stunt-worthy crash, the gangsta from Svenska also claimed he was just the passenger. After the Red Ferrari crash, Eriksson suffered the humiliation of being booked on multiple charges including illegal gun possession and two counts of embezzlement related to his sketchy dealings with exotic cars. Eriksson pleaded no contest to the charges and was sentenced to three years in the klink. Eriksson should have truly considered himself lucky as he could have been killed, instead, he walked away from the spectacular 120 mph high speed crash, attesting to the quality of the Ferrari's design safety. The Red Ferrari, shown in the photo, was literally sheared in half as if cut by a cake knife.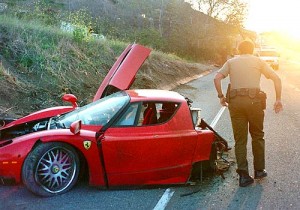 Flash forward now six years later. The police chose not to engage a speeding driver of a Mercedes in Beverly Hills for traffic safety reasons, but the 5-0 located him later. As it turned out, this was the mysterious "Dietrich", only his real name is Trevor Karney. Ironically, Karney claims to have been the passenger in the original Red Ferrari smash-up. Two passengers, one Ferrari. What, no driver? Karney has no fixed address, but states he lives on a boat in Marina del Rey. Shades of Sonny Crockett and Miami Vice, chez California. But Crockett primarily drove a white 1986 Ferrari Testarossa. And now to continue with the cake knife metaphor, a cake that commemorated the crash, complete with a bottle of Absolut. Let them eat a Red Ferrari Enzo cake, but wash it down with some Swedish vodka!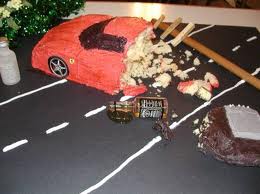 Red Car Small Penis previously blogged about high end sports cars being abandoned by their former owners in Dubai as primarily British expats were fleeing Dubai in humiliation to avoid debtor's prison. Now… a red Ferrari Enzo abandoned by its British owner will be going up for auction. This rare million dollar Ferrari Enzo (named after the legendary Enzo who launched the Ferrari sports car), even though covered in desert sand and exposed to the elements for over a year, will presumably go for a high auction price and be refurbished to its former polished look.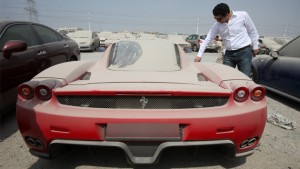 The humiliated British expat, who went from rich to pauper, must be experiencing small penis humiliation as he dumped his million dollar Enzo at the airport due to falling behind on payments and other driving fines then hopped a flight back home with his small penis tucked between his legs. Only 399 Ferrari Enzo models were manufactured and some of their high profile owners include multi-millionaires Tommy Hilfiger and Eric Clapton. This former high profile Enzo owner is surely experiencing the humiliation of taking the tube (British slang for subway) or other public transportation since he most likely lost his job in the oil biz or construction biz when those industries went bust in Dubai. But imagine if any dates find out he used to own and lost a Ferrari Enzo! He will deserve any small penis humiliation verbal abuse these women dish at him.
On a new Spike TV reality show, Repo Games, contestants vie to win their repo'd car back if they can answer successive trivia questions correctly. If they win, Repo Games pays to get their car out of the repo lot. If they don't, the contestants are even more humiliated than already having had their car repossessed for falling behind on car payments. Public humiliation is one of the fiercest forms of humiliation, being humiliated on tv in front of millions of viewers is devastating.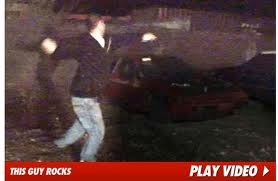 Repo Games producers came up with a winning reality tv show formula combining a trivia game show with more on the line than winning cash or prizes. The show goes on location to the actual repo lots where the contestants must answer trivia questions under pressure to win back their cars. In the case of one contestant, a Red sports car owner who had already suffered the humiliation of losing his Red car to the repo man, losing at the trivia game and losing his Red car forever was more than he could bear. Caught on tape was his angry response as he picked up a large rock and smashed his Red car's windshield, most likely adding more monetary injury to insult as the creditor may hold him responsible for the damages. Humiliating!

photo of video screen cap c/o TMZ
This Red Lamborghini is "pimping the mix" as trendy club deejays say, but a different kind of mix, Readymix, as in concrete. Since the Miami, Florida building bust, I'm sure Readymix Concrete isn't busy pouring their mix, but obviously the CEO is out pimping the mix and his small penis humiliation ride, a Red Lamborghini.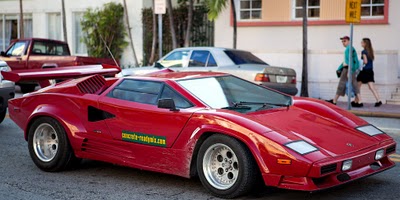 It's not unusual for a wealthy CEO to be driving around Miami Beach, showing off his Red Car Small Penis, except in this case, he's emblazoned his small penis humiliation Italian sports car with a bumper sticker that advertises his company.
Question: Why ruin an expensive Red Lamborghini with a cheesy yellow and green bumper sticker on the side door?
Answer: Small Penis, Large Tax Write-off!
In this case, I suspect pimping the Readymix means the Red Lamborghini is considered a company car tax write-off. Not only small penis humiliation, but also public humiliation to have the pricey Red Lamborghini defaced by a tacky bumper sticker, even if it means saving tax bucks. I bet Mr. Readymix's accountant told him to slap on a bumper sticker with the company name as proof in case the tax man were to unexpectedly show up, suspicious that Mr. Readymix is trying to get something past Uncle Sam. So the tacky bumper sticker beats a tax audit, but driving a Red Lamborghini does not trump small penis humiliation!
I watched the original of "The Mechanic" starring Charles Bronson and Jan Michael Vincent on Netflix, already aware of the brilliant scene featuring the fatal explosion of the Red Mustang at the end of the 1972 classic. Whereas in some films, Red cars are definitive small penis jokes, I never thought at any point in the movie that the Red Mustang held any symbolic meaning re: a small penis. Instead I interpreted that Red was the color of temptation, and this irresistible temptation to drive the souped up Red Mustang was what killed Jan Michael Vincent's character. Would it have been as effective and believable a cinematic temptation had the Mustang been green (as in "Bullitt"), powder blue or gold? Unequivocally no. And the note Bronson left for Vincent, isn't revenge the ultimate humiliation?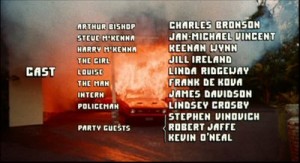 Fast forward to 2011 and Jason Statham and Ben Foster are reprising the Bronson and Vincent roles in the adrenaline-injected remake. While some of Bronson's die-hard fans found it sacrilegious to touch a Bronson classic, Hollywood couldn't resist remaking a movie starring a hitman, a young protege, homoeroticism, guns, testosterone and explosions. All of the ingredients that a studio would topload into an action film to attract, as actress Helen Mirren has quipped about typical Hollywood fare, "small penis movie-goers." Except in the remake, the Red Mustang has been replaced by a Jaguar Series II E-Type FHC (fixed head coupe). Again, the color is Red as no other color would symbolize the deathtrap or serve as a credible lure for the young Mechanic to drive away. However, unlike the Red Mustang, I do get a small penis vibe from the Red Jaguar, even hinted in the shape of the car itself.
I assume a twist to the original explosive finale could have been for the Jag engine to make a palpable stall then start and while the audience would be collectively holding their breath, waiting for Foster to find and read the humiliating note and anticipate the inevitable, the Red Jag could have not exploded. And that certainly would have left an opening for a sequel. Jason Statham, who I get a rather large penis vibe from, showed up at the The Mechanic movie premiere in a Red Jaguar Series II E-Type FHC to properly pimp the car and the film.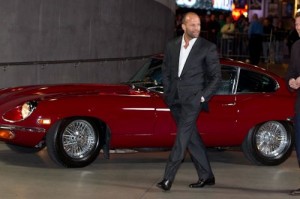 But the "versus" issue in my blog title is, not which version of "The Mechanic" was better, as there is no question, and not so much a Red Car? Small Penis! issue, but I'm asking for your POV: which car was the superior Red temptation? I say the Red Mustang. What say you?