A red BMW Mini Cooper was the prize in a recent German radio station contest where contestants pitched the most crazy and outrageous stunt they would do in order to win the car. And the winner was…Andreas Muller who committed to having the word MINI tattooed onto his penis! Red MINI, Mini Penis?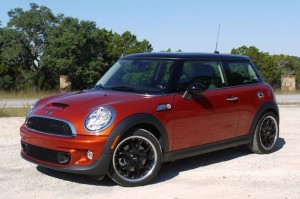 The German radio station manager didn't miss an opportunity to deliver the zinger that Andreas "won by a head". The actual tattooing was broadcast live on the radio station by a female disc jockey, the live broadcast even included Andreas' screams of pain. Notice in the photo that Andreas had to be taped and bound to the tattoo parlor chair! The German media captured photos of the small penis humiliation event and the kleinschwanz news story hit the internet. Even Chelsea Handler, on her Chelsea Lately show, covered the small penis humiliation story and commented that no woman would want to do a guy who had the word MINI tattooed on his penis.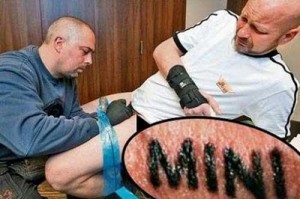 Andreas claims he's going to be adding some tattoo flames to the MINI tattoo on his small penis to make it look like it's in motion. What's in motion? The MINI tattoo? His penis? Most likely his penis in motion in his hand!
When asked about the MINI penis tattoo pain, Andreas replied that once he was sitting in the Mini Cooper, the pain would disappear. Well, while we are laughing in small penis humiliation, Andreas is driving around in a Red BMW Mini Cooper worth $32,000. Perhaps Andreas is getting the last laugh as the humiliation and pain was worth it to win the Mini. Even if it meant thousands of people now know he has a MINI penis, that is, especially if he's into small penis humiliation!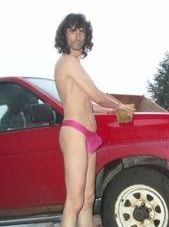 String Emil was an early internet phenomenon who posted mostly self shot pics of himself wearing his red g-string. The string in Emil's nickname referred to his sexy g-string. He would wear other skimpy panties and take sleazy shots of himself doing mundane things like washing his Red car, riding his tractor around his farmette and lying on his waterbed holding a phone. Yes, he used to do gay phone sex from his house in Germany. His original website — www.stringemil.de — is now gone, but has been revived as string-emil.de. String Emil was probably the most famous German phone sex operator of all time and the most famous gay phone sex operator, although the claims was that he was only gay for pay.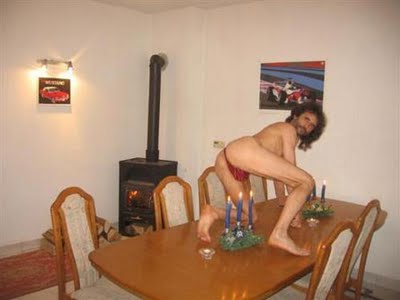 He may not have fit the small penis criteria, notice the bulge in the photo of String Emil washing his Red car, hmmm that doesn't look faked. But take note of the sizzling Red car calendar and thrilling Red racing car picture on his dining room walls! String Emil was truly obsessed with Red cars and fetishized his obsession. But String Emil did not have a small penis. This totally contradicts my theory about Red Car? Small Penis! Although maybe he was doing gay small penis humiliation phone sex with men who had small penises, and he was putting them in their place as complete KleineSchwanzLoosers, small dick losers, humiliating them, cuckolding them with stories about how he was scoring all the hot Frauen in Deutscheland.