A red BMW Mini Cooper was the prize in a recent German radio station contest where contestants pitched the most crazy and outrageous stunt they would do in order to win the car. And the winner was…Andreas Muller who committed to having the word MINI tattooed onto his penis! Red MINI, Mini Penis?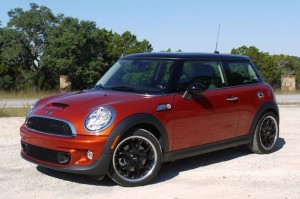 The German radio station manager didn't miss an opportunity to deliver the zinger that Andreas "won by a head". The actual tattooing was broadcast live on the radio station by a female disc jockey, the live broadcast even included Andreas' screams of pain. Notice in the photo that Andreas had to be taped and bound to the tattoo parlor chair! The German media captured photos of the small penis humiliation event and the kleinschwanz news story hit the internet. Even Chelsea Handler, on her Chelsea Lately show, covered the small penis humiliation story and commented that no woman would want to do a guy who had the word MINI tattooed on his penis.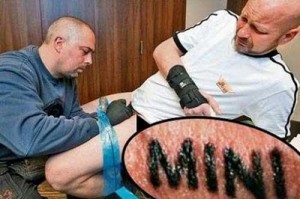 Andreas claims he's going to be adding some tattoo flames to the MINI tattoo on his small penis to make it look like it's in motion. What's in motion? The MINI tattoo? His penis? Most likely his penis in motion in his hand!
When asked about the MINI penis tattoo pain, Andreas replied that once he was sitting in the Mini Cooper, the pain would disappear. Well, while we are laughing in small penis humiliation, Andreas is driving around in a Red BMW Mini Cooper worth $32,000. Perhaps Andreas is getting the last laugh as the humiliation and pain was worth it to win the Mini. Even if it meant thousands of people now know he has a MINI penis, that is, especially if he's into small penis humiliation!