When Red Car Small Penis blogged about the Romney Girl video in August, we pointed out that the Red Mustang in the video intimated that Mitt had a small penis. Now, it turns out that Mitt actually owns a 2005 Ford Mustang mentioned on several popular blogs as a Red convertible. Red is the color of the Republic party after all. So, Romney Girl accurately depicted the Mitt Romney Red Mustang in her political parody video. Gasp at the small penis humiliation! Let's continue and …
Mitt Romney Red Cars
… well, let's give Mitt an iota of cred for owning American cars before we move into more small penis humiliation. Mitt's American car fetish most likely takes root in his father having been CEO of the now defunct American Motors Corporation. Mitt and his wife, Ann, own the following vehicles: two Cadillacs which Ann drives, one Chevy Silverado pickup truck and one aforementioned Ford Mustang which Mitt drives. Mitt also owns a collector car, a 1963 Rambler Classic manufactured by AMC. Owning this car is most likely a reflection of the nostalgia Mitt feels for the vehicle that his father promoted while running AMC from 1954 through 1962. In another nostalgic gesture, Mitt expressed his desire to buy a sporty red vintage AMC Nash at a car show. Of course, this desire may also be due to Mitt's small penis size, but Mitt decided against buying this rare classic auto because he felt the $10K price was a little steep for the 1955 Nash Metropolitan depicted in the photo below.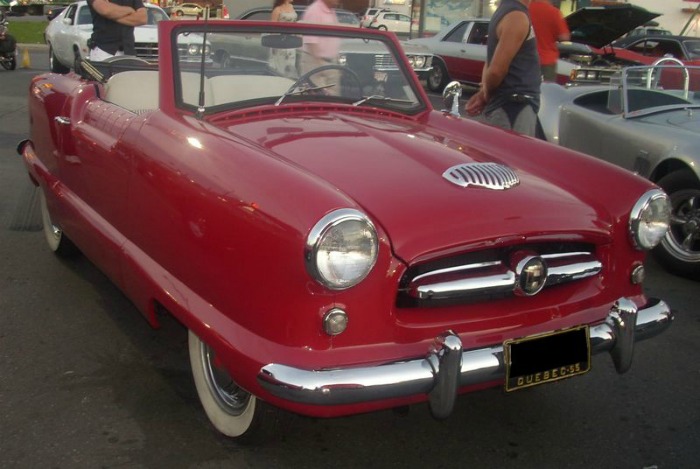 Midlife Crisis Car?
Update: We received an email at RedCarSmallPenis.com that the Red Mustang convertible which Mitt drives was a birthday gift from Ann to Mitt in 2005. Could the Red Mustang still be a small penis humiliation mobile? Ann would certainly know… Or was this a midlife crisis car birthday gift? A symbol of the Republican party? Or all of the above?
Barack Obama Blue Mustang
And was this photo of Barack Obama at an auto show earlier in the year, which a RedCarSmallPenis.com reader sent in, where the President checked out a blue Mustang Shelby GT (600 horsepower), an homage to the Democratic party color and a cock block of Mitt's Republican Red Mustang?