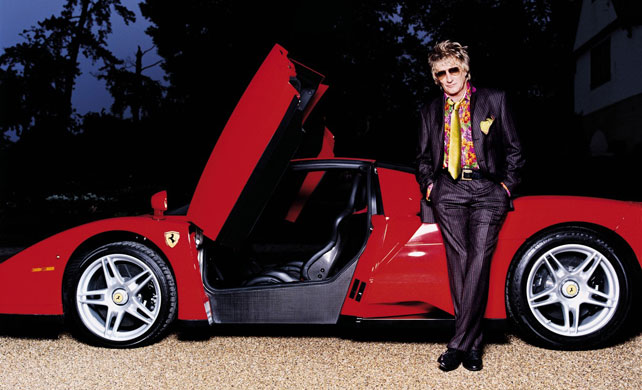 There is no shortage of famous celebs riding around in fiery red sports cars revealing more about themselves than they realize. This blog has been documenting the relationship between driving a red car and having a small penis for years. Famous crooner Rod Stewart is no exception to the small penis humiliation rule. Rod recently confessed that his "little rod" was made even smaller by taking steroids to combat inflammation of his vocal cords during early concert touring days.
Most men who fantasize about becoming famous rock stars want to get filthy rich as well as bed a bevy of beautiful women. While Rod was getting rich, his rod was being shriveled due to steroid use. Instead of hiding in shame, he publicly advertised to the world he had a small penis by motoring around in his Red Ferrari Enzo, years before he revealed his small penis humiliation! Rod's little rod and red hot rod belong together! Everyone knows that cruising in a red car is signaling to the world you have a small penis! Talk about total small penis humiliation. Rod claimed that steroids reduce the swelling in any membrane, not just the vocal cords, but also the "membrane" in a guy's pants. Cue PSA for the biggest reason not to take steroids.
This peen shrinkage news becomes more timely with all the steroid talk in the baseball world making it easy to identify which players are sporting small packages due to 'roid abuse. Players on MLB's steroids list are not only going to be publicly humiliated by being suspended, but also sports fans will know each of those players shrunk their peens in order to play ball and get filthy rich. Poor ARod and Ryan Braun are now clearly among the league's smallest endowed players. Oddly enough, neither drive red sports cars. Yet.

Rod's Red Hot Rod at a British car show