Posts Tagged 'Red Corvette'
What do Small Penis Humiliation and Spit have to do with each other? Read on and find out. Northwestern University did a consumer research study this year and found out that men produce more saliva when they think about about or see luxury items they want. One interesting result this male behavioral study uncovered was that men literally salivated over expensive sports cars. Let's hope that they were thinking about Red sports cars too, since it would only make sense: Red Car? Small Penis Humiliation! Spit! This new research study took into account that men who want to impress women indulge in conspicuous spending of luxury items such as sports cars. While it's part of a male mating imperative, in some cases this spending can backfire on men, when women perceive their spending to be desperate overcompensation for lack of masculinity or penis size. So while men will literally drool over a Red Corvette, women will only be thinking small penis humiliation.
Other prior research has also shown that males display biological mating behavior in their driving behavior and that while driving sports cars, men will produce more testosterone in their spit. Now we know they produce more spit too. Haven't you seen men driving, roll their window down and spit, like a lot? Hmmm. While humans have evolved, the car is an extremely important aspect of male mating behavior and males perceive their driving or cruising around in sports cars as a way to attract a mate. Unfortunately, women only feel like dishing out small penis humiliation when they see a loser cruising in his Red Corvette.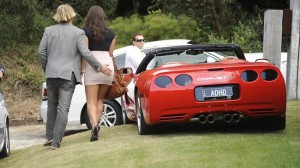 Red Car Small Penis Humiliation is not for girls. Girls can drive whatever sportscar in whatever car color they desire without fear of humiliation or being seen as overcompensating. In fact, when girls drive a red car, it's viewed as a sexual signal, as in red hot! There's an old song by Prince, Sweet Little Red Corvette, that is basically about a girl's sexuality being tied into Red car symbolism. Girls can motor around in a Red Corvette, Porsche or Ferrari and the only thing guys will think is, well, let's just say guys will not be thinking, they will be reacting!
So on Black Friday, Paris Hilton gave herself a very expensive gift, a $277,000 Red Ferrari sportscar. Now that Paris has broken up with her wealthy Vegas club magnate fiance, Paris must need to console herself and advertise that she's a hot ride with a hot ride. Nothing advertises a girl on the prowl for sex more than when she's cruising around in an expensive red Italian sportscar. But perhaps there is some humiliation and overcompensation in Paris Hilton buying a Red sports car? Obviously, it wouldn't be small penis humiliation or size overcompensation, but… Recently, Paris didn't handle an interview very well where the interviewer asked her if she felt irrelevant (having been replaced by Kim Kardashian). In fact, Paris was embarrassed and humiliated on live national tv. So perhaps, out of humiliation for being accused of irrelevancy, and to overcompensate, Paris decided to console herself and get spendy on a sports car.