Posts Tagged 'Collector Car'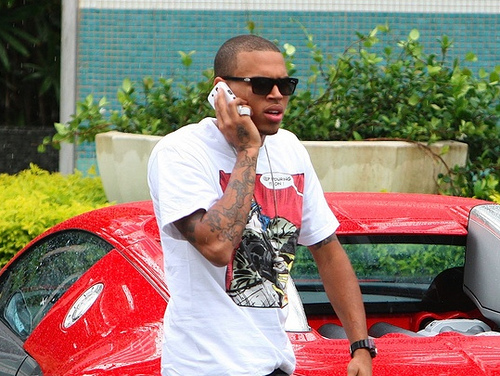 Girls know that guys never grow up. Consider the epic saying about the only difference between men and boys is the size and price of their toys. In this case, scofflaw rapper Chris Brown proves it with a Hot Wheels inspired custom paint job on a Lamborghini. Since Rihanna used to be involved with him and she is a Size Queen known for despising little dicks, it can be deduced that Chris Brown isn't under-endowed. However, he's known for being a dick of a different kind, obviously a fairly wealthy one, who can afford a collection of pricy whips including this Hot Wheels Lambo.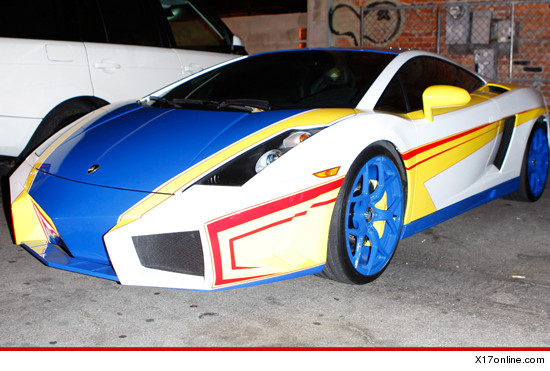 With a net worth of over 20 million from rapping since he was 14, he has collected some unusual rides in addition to the Hot Wheels big boy sports car, including a custom painted Jet Fighter inspired Lambo, an uber expensive Red Bugatti Veyron (same color and model that record mogul Birdman owns), a black Porsche Turbo coupe, a black Range Rover, a blue Porsche Panamera, a Red Lamborghini Aventador and a classic Chevy Impala. New money is always showy. And new money rappers want to show off their wealth. For Chris Brown, his car collection shows off his wealth on wheels.
photo credit of Hot Wheels Lambo – X17Online.com
In the classic 1980's John Hughes film "Ferris Buellers Day Off", Ferris Bueller's best friend, Cameron, blasts his father for caring about his beloved 1961 Red Ferrari California more than his own son. Ferris, Cameron and Sloane (Ferris' girlfriend) take a joyride in the Ferrari on the eponymous day off, tooting around Chicago. They return the Ferrari to the showroom garage in the modernist home, whereupon Cameron notes that their drive racked up 200 miles on the odometer. He knows this will make his father crazed. His father is anal retentive about the mileage on the Ferrari and it will be obvious that Cameron took the expensive collector car out for a drive. Higher mileage on the collector Ferrari California would decrease its value. Cameron and Ferris deduce a plan to run the Ferrari in reverse while lifted up with a jack to spin the odometer back. However, as everyone who has watched the film knows, the plan backfires. When Cameron is raving about his father's obsession with his cars and how he should just stand up to his father and take responsibility for once, he accidentally knocks into the jack and the Ferrari rear wheels fall to the garage floor. Then the Ferrari skids right through the showroom garage plate glass window, crunching tree branches before landing in a ravine below. When the bough breaks, the Ferrari will fall…
A special replica of the 1961 Red Ferrari California was used for the Ferris Bueller Car Crash Scene, since it would have been too expensive to wreck a $350K Ferrari on the relatively small movie budget. Most likely no director, regardless of budget, would wreck a Ferrari when a cheaper replicar could be built and utilized for such a scene. Today's value for that rare Red Ferrari California is over $10 million dollars which illustrates the value of older collector Ferraris. While there isn't a relationship of the Red Ferrari to small penis humiliation in this film, the father's obsession with the car and ultimate destruction of the car holds symbolic value. And while it is open to the audience to imagine what the humiliating confrontation will be like when Cameron's father finds out the Ferrari has been destroyed, Cameron seems to feel relieved that he has done something so shocking to a car that his father loves, destroying this symbol of displaced parental affection.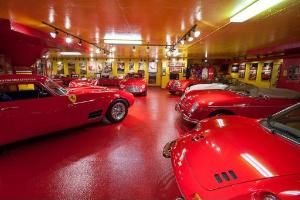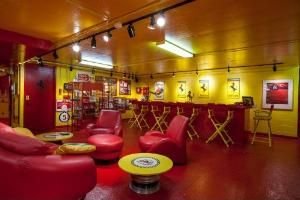 This multimillion dollar Red Ferrari garage is valued greater than the Chicago Lake Shore Drive high rise apartment the garage is being sold with! Shocker! The seller is asking $3.4 million for the apartment and garage or a mere $2.1 million if a big spender only wants to snag the spacious subterranean garage. The garage is a 2,700 square foot man cave featuring red floors, red Italian leather sofas and seating plus a full bar decorated in auto racing motif. This is one of the largest collections of car porn aside from famous car enthusiast, Jay Leno. And, no, the real estate price doesn't include the twenty sport cars including Red Ferraris, Porsches or the Austin Healy. It will be interesting to see if this property sells in entirety or if only the one bedroom apartment sells. The likelihood of finding a buyer for the underground garage as a solo real estate purchase in Chicago's urban lakeside does not seem promising.
The luxurious 67th floor penthouse apartment boasts stellar views of Lake Michigan and the Chicago skyline which along with the car collector garage make this a truly unique piece of Chicago real estate for the "right" buyer. Typically, showroom style garages are custom designed for auto aficionados on large estate properties and are not practical for urban dwellings without the space for a private garage. The owner of this unusual luxe property is a car collector and also a former race car driver who still dabbles in road rallies. The collection of twenty European sports cars, many valued at over a million dollars each, are showcased as if they are in a renowned auto museum. Even the wealthy real estate owner and car connoisseur stated in an interview for ChicagoBusiness.com that the sports cars he collects are "rolling works of art".
When Red Car Small Penis blogged about the Romney Girl video in August, we pointed out that the Red Mustang in the video intimated that Mitt had a small penis. Now, it turns out that Mitt actually owns a 2005 Ford Mustang mentioned on several popular blogs as a Red convertible. Red is the color of the Republic party after all. So, Romney Girl accurately depicted the Mitt Romney Red Mustang in her political parody video. Gasp at the small penis humiliation! Let's continue and …
Mitt Romney Red Cars
… well, let's give Mitt an iota of cred for owning American cars before we move into more small penis humiliation. Mitt's American car fetish most likely takes root in his father having been CEO of the now defunct American Motors Corporation. Mitt and his wife, Ann, own the following vehicles: two Cadillacs which Ann drives, one Chevy Silverado pickup truck and one aforementioned Ford Mustang which Mitt drives. Mitt also owns a collector car, a 1963 Rambler Classic manufactured by AMC. Owning this car is most likely a reflection of the nostalgia Mitt feels for the vehicle that his father promoted while running AMC from 1954 through 1962. In another nostalgic gesture, Mitt expressed his desire to buy a sporty red vintage AMC Nash at a car show. Of course, this desire may also be due to Mitt's small penis size, but Mitt decided against buying this rare classic auto because he felt the $10K price was a little steep for the 1955 Nash Metropolitan depicted in the photo below.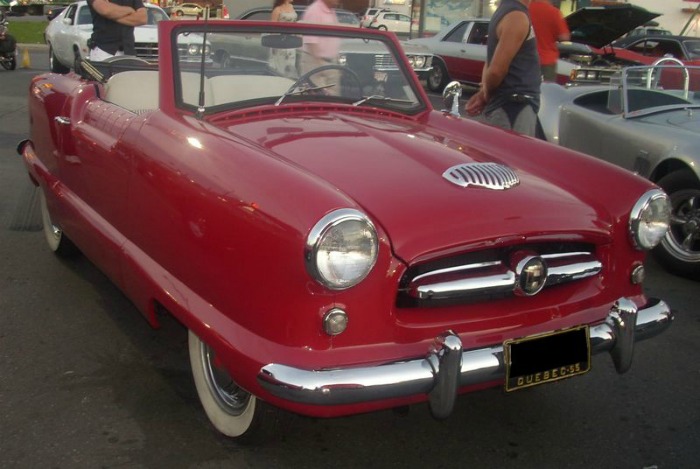 Midlife Crisis Car?
Update: We received an email at RedCarSmallPenis.com that the Red Mustang convertible which Mitt drives was a birthday gift from Ann to Mitt in 2005. Could the Red Mustang still be a small penis humiliation mobile? Ann would certainly know… Or was this a midlife crisis car birthday gift? A symbol of the Republican party? Or all of the above?
Barack Obama Blue Mustang
And was this photo of Barack Obama at an auto show earlier in the year, which a RedCarSmallPenis.com reader sent in, where the President checked out a blue Mustang Shelby GT (600 horsepower), an homage to the Democratic party color and a cock block of Mitt's Republican Red Mustang?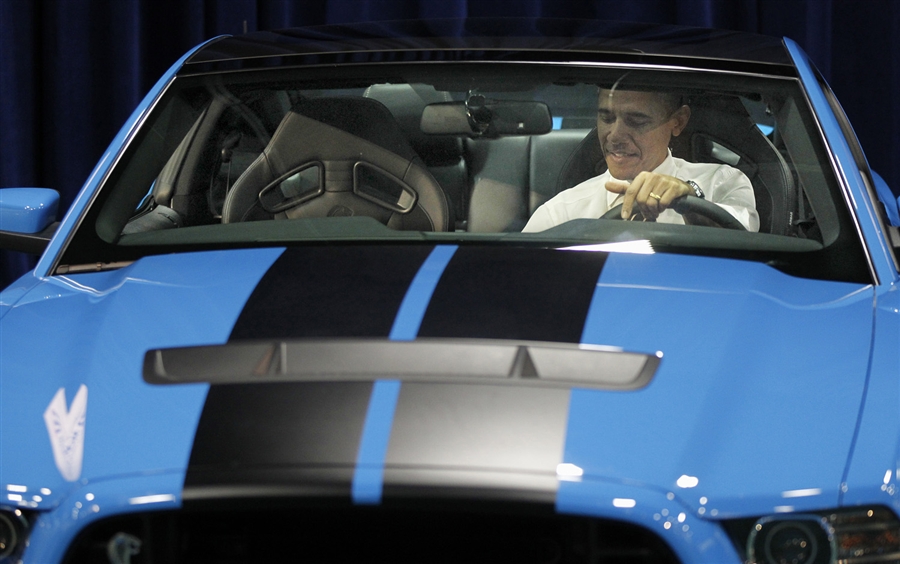 My Red Car Small Penis blog missed the small penis humiliation trifecta on this Red car find! However, with two out of three cars in "small penis" red, I would bet the owner of these three cars is well endowed with cash, but not so well endowed with penis size. At first, I thought these three sports cars were parked in a primo showroom garage. As it turns out, the garage is not an actual garage, but an art gallery which can park up to 30 collectible cars! Without a panoramic view of the art gallery garage, it's hard to imagine the magnitude of a space 10 times the size depicted.

As for the cars, my Red Car Small Penis automotive expert identified a newer Red Ferrari, a classic Red Porsche coupe and an uber classic gull-wing door silver Mercedes roadster. It seems a shame to waste the newer Red Ferrari in a collector car garage, that sports car should be driven! If for no other reason than small penis humiliation! This art gallery collector car garage is located in Santa Barbara, California, in a renowned "architectural" house currently listed on the market for over 20 million dollars. Yes, you read that dollar figure right. Unlike the Malibu, California beach house, where the seller was using a free Red Ferrari as small penis humiliation buyer bait, none of these cars are being used to seduce a buyer with big cash, small penis.
photo c/o MLS.com