How much does the size choice of a man's car equate to his penis size?
Comedienne Sarah Silverman's father tweets about life from Boca Raton, Florida. You can actually see where her sardonic sense of humor comes from, if you follow him on his RantsFromBoca Twitter. One of his recent tweets:
Boca rumor has it the bigger the car the smaller the penis. So why am I driving a Prius? Maybe it isn't applicable if you are 73.
A Red Prius was a virtual joke-mobile for actors Will Ferrell and Mark Wahlberg playing farcical French Connection-esque cops in last year's comedy film "The Other Guys". The Red Prius took the brunt of "small" jokes intimating small penis humiliation.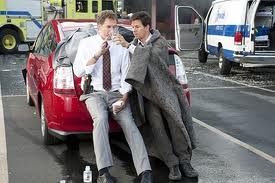 And the Prius, perhaps due to its name, a five letter word that sounds like Penis, continues to be a target for small penis humiliation jokes, regardless of color. In this case, a small car is associated with having a small penis as if it is a mirror to small penis humiliation size. Prius? Small Penis!
I've also blogged about how men aka losers who try to overcompensate for lack of penis size by buying a big-ass SUV, super-sized pick-up truck or large luxury sedan, but not necessarily in the color known as "small penis" red. In this case, it's: Big Car? Small Penis!
Emma Parker Bowles, a British expat and writer living in LA, and yes, niece of cuckoldress Camilla Parker Bowles, penned an interesting article in the The Sun, a UK news journal, about the same small penis humiliation topic. She opined that men with small penises seek out larger cars to compensate for their lack of penis size, but lamented she couldnt' go around de-pantsing the big car drivers to prove her theory. Oh, if only! She also noted that Americans have an obsession about car size regardless of penis size and much more so than car owners in other countries. She felt that despite the new trend in the US toward driving smaller cars and hybrids, that Americans will typically seek out larger vehicles to drive. In America, she stated, "bigger is better" regardless of fuel costs or environmental impact.
Image c/o movie still from "The Other Guys"