Six years ago Swedish gangster Bo Stefan Eriksson claimed the million dollar Red Ferrari Enzo that crashed and split in half on Pacific Coast Highway in Malibu had been driven by a mysterious German driver he dubbed "Dietrich". In this cinema stunt-worthy crash, the gangsta from Svenska also claimed he was just the passenger. After the Red Ferrari crash, Eriksson suffered the humiliation of being booked on multiple charges including illegal gun possession and two counts of embezzlement related to his sketchy dealings with exotic cars. Eriksson pleaded no contest to the charges and was sentenced to three years in the klink. Eriksson should have truly considered himself lucky as he could have been killed, instead, he walked away from the spectacular 120 mph high speed crash, attesting to the quality of the Ferrari's design safety. The Red Ferrari, shown in the photo, was literally sheared in half as if cut by a cake knife.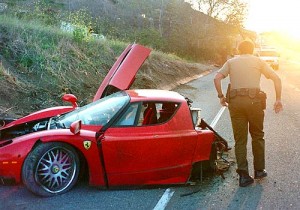 Flash forward now six years later. The police chose not to engage a speeding driver of a Mercedes in Beverly Hills for traffic safety reasons, but the 5-0 located him later. As it turned out, this was the mysterious "Dietrich", only his real name is Trevor Karney. Ironically, Karney claims to have been the passenger in the original Red Ferrari smash-up. Two passengers, one Ferrari. What, no driver? Karney has no fixed address, but states he lives on a boat in Marina del Rey. Shades of Sonny Crockett and Miami Vice, chez California. But Crockett primarily drove a white 1986 Ferrari Testarossa. And now to continue with the cake knife metaphor, a cake that commemorated the crash, complete with a bottle of Absolut. Let them eat a Red Ferrari Enzo cake, but wash it down with some Swedish vodka!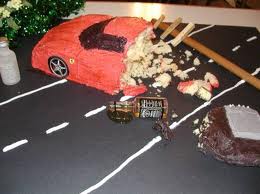 The bottom line reality is that if you drive a red sports car, women think you have a small penis and that you deserve small penis humiliation. Driving a Red sports car is like a small penis humiliation advertisement on wheels. You might as well have the doors of your Red sports car emblazoned with: Yes, I have a small penis! Or get a vanity tag that says: 4 inches. I think I would laugh hysterically if I saw a vanity license plate on a Red Lamborghini, Ferrari, Maserati or Porsche that was imprinted with a small penis size in inches. What would be funnier is if it said: 8 inches, as if the driver was truly trying to emphasize he wasn't the small penis humiliation stereotype! To that driver, women would say: Prove it!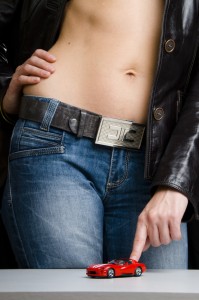 It's amazing there are so many Red sports cars on the road with small penis humiliation male drivers! I see them literally every day. I live in an area where people's identities are very much associated with their cars, SUVs or trucks. South Florida has a huge "car culture." People feel they can read other people by the types of cars they drive, especially their income level. Or even assess the type of person by their wheels, e.g., a hybrid owner is more environmentally conscious and so on. I don't disagree with this informal quick study analysis of people and their cars. There are different cars for different personality types. Red sports cars are definitely for the midlife crisis guys and the small penis humiliation losers.
I wrote about the Small Penis Humiliation Situation on my Sara's Playroom Small Penis Humilation blog. Melody Eckerson, a hot blonde picked up from a Miami nightclub by the Jersey Shore's Mike Sorrentino, reported that Mike a/k/a The Situation has a "little situation". Now there seems to be even more proof that The Situation has a "little situation"! He was recently seen test driving a brand new Ferrari F430 Spider coupe, sticker price around 200 large ($200,000). The Ferrari color? Red, of course! The Situation's main ride is a tricked out black Bentley. The primo black Bentley isn't a small penis on wheels, but if he does pick up the new Red Ferrari, this definitely would be a Red Car Small Penis situation!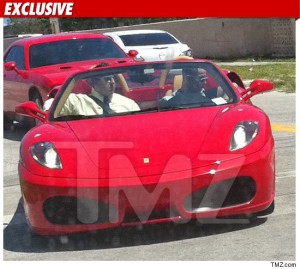 In my opinion, the black Bentley is a big money statement, but not a small penis statement. So, what literally drives men with money and a small penis to buy a Red car? There are so many other color choices for sports cars that don't spell small penis and that don't draw small penis humiliation from women who see the Red sports car on the road and flash the SPH inky winkie pinkie wave. Perhaps it's the totality of the attention that a Red Ferrari will bring, that everyone will notice it, both men and women, regardless of small penis humiliation. And perhaps a Red Ferrari has been the driver's dream sports car acquisition. So the Red Ferrari driver ignores the small penis humiliation, because the rush from fulfilling a dream overrides SPH. Or the Red Ferrari driver might even secretly enjoy SPH as a form of attention.
photo courtesy of TMZ
This Red Lamborghini is "pimping the mix" as trendy club deejays say, but a different kind of mix, Readymix, as in concrete. Since the Miami, Florida building bust, I'm sure Readymix Concrete isn't busy pouring their mix, but obviously the CEO is out pimping the mix and his small penis humiliation ride, a Red Lamborghini.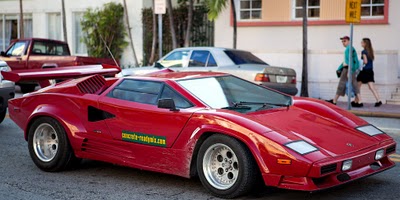 It's not unusual for a wealthy CEO to be driving around Miami Beach, showing off his Red Car Small Penis, except in this case, he's emblazoned his small penis humiliation Italian sports car with a bumper sticker that advertises his company.
Question: Why ruin an expensive Red Lamborghini with a cheesy yellow and green bumper sticker on the side door?
Answer: Small Penis, Large Tax Write-off!
In this case, I suspect pimping the Readymix means the Red Lamborghini is considered a company car tax write-off. Not only small penis humiliation, but also public humiliation to have the pricey Red Lamborghini defaced by a tacky bumper sticker, even if it means saving tax bucks. I bet Mr. Readymix's accountant told him to slap on a bumper sticker with the company name as proof in case the tax man were to unexpectedly show up, suspicious that Mr. Readymix is trying to get something past Uncle Sam. So the tacky bumper sticker beats a tax audit, but driving a Red Lamborghini does not trump small penis humiliation!
How much does the size choice of a man's car equate to his penis size?
Comedienne Sarah Silverman's father tweets about life from Boca Raton, Florida. You can actually see where her sardonic sense of humor comes from, if you follow him on his RantsFromBoca Twitter. One of his recent tweets:
Boca rumor has it the bigger the car the smaller the penis. So why am I driving a Prius? Maybe it isn't applicable if you are 73.
A Red Prius was a virtual joke-mobile for actors Will Ferrell and Mark Wahlberg playing farcical French Connection-esque cops in last year's comedy film "The Other Guys". The Red Prius took the brunt of "small" jokes intimating small penis humiliation.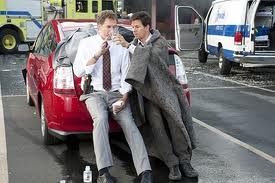 And the Prius, perhaps due to its name, a five letter word that sounds like Penis, continues to be a target for small penis humiliation jokes, regardless of color. In this case, a small car is associated with having a small penis as if it is a mirror to small penis humiliation size. Prius? Small Penis!
I've also blogged about how men aka losers who try to overcompensate for lack of penis size by buying a big-ass SUV, super-sized pick-up truck or large luxury sedan, but not necessarily in the color known as "small penis" red. In this case, it's: Big Car? Small Penis!
Emma Parker Bowles, a British expat and writer living in LA, and yes, niece of cuckoldress Camilla Parker Bowles, penned an interesting article in the The Sun, a UK news journal, about the same small penis humiliation topic. She opined that men with small penises seek out larger cars to compensate for their lack of penis size, but lamented she couldnt' go around de-pantsing the big car drivers to prove her theory. Oh, if only! She also noted that Americans have an obsession about car size regardless of penis size and much more so than car owners in other countries. She felt that despite the new trend in the US toward driving smaller cars and hybrids, that Americans will typically seek out larger vehicles to drive. In America, she stated, "bigger is better" regardless of fuel costs or environmental impact.
Image c/o movie still from "The Other Guys"